April 25, 2022 (MLN): Owing to the productive meetings with International Monetary Fund (IMF), the Pakistani rupee (PKR) saw a notable gain as the currency closed today's trade at PKR 186.05, witnessing a gain of 70 paisa, compared to last session's closing of PKR 186.75 per USD.
The rupee endured a volatile trading session with quotes being recorded in a range of 1.2 rupees per USD showing an intraday high bid of 186.40 and an intraday low offer of 185.50.
Traders in the money market cheered this positive development wherein the fund expects to field a mission to Pakistan in May to resume discussions over policies for completing the 7th EFF review.
The authorities have also requested the IMF to extend the EFF arrangement through June 2023 as a signal of their commitment to address existing challenges and achieve the program objectives.
In addition, Pakistan had agreed to roll back subsidies to the oil and power sectors ahead of the resumption next month of a review of the agency's support for the country.
Meanwhile, Asad Rizvi, the former Treasury Head at Chase Manhattan Bank said, an undervalued PKR can no longer be a free ride.
"Fx reserves have slumped due to higher imports. The other cause of mismatch and the wider gap is inflow delay. The economy will once again get breathing space after the loan is sanctioned," he added.
From July'21 to date, the local unit has lost Rs28.50 against the USD. Similarly, the rupee fell by Rs9.53 in CYTD, with the month-to-date (MTD) position showing a drop of 1.38%, as per data compiled by Mettis Global.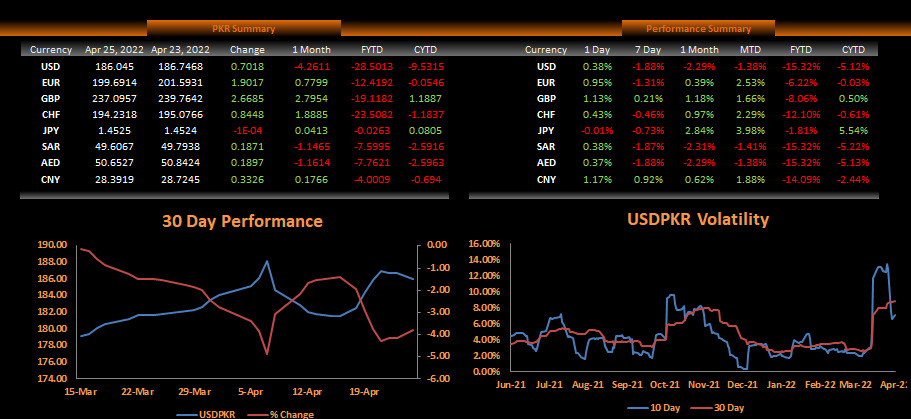 However, the performance of PKR remained bleak against major currencies in the fiscal year to date as it weakened by 14.09%, 15.32%, 15.32%, 12.10%, 8.06%, 6.22%, and 1.81% against CNY, SAR, AED, CHF, GBP, EUR, and JPY, respectively.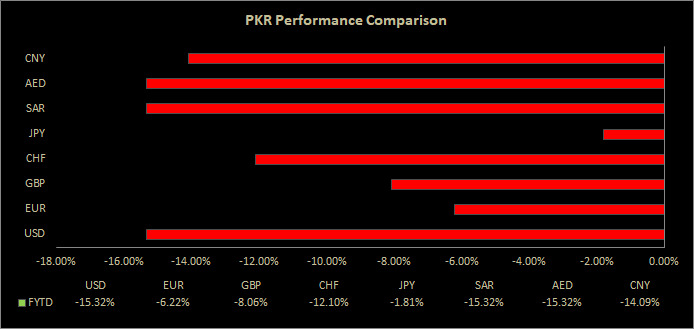 Within the open market, PKR was traded at 185.50/186.50 per USD.
Meanwhile, the currency gained 2.7 rupees against the Pound Sterling as the day's closing quote stood at PKR 237.1 per GBP, while the previous session closed at PKR 239.76 per GBP.
Similarly, PKR's value strengthened by 1.9 rupees against EUR which closed at PKR 199.69 at the interbank today.
The overnight repo rate towards close of the session was 11.75/11.90 percent, whereas the 1 week rate was 12.15/12.25 percent.
Copyright Mettis Link News
Posted on: 2022-04-25T15:38:50+05:00
32354