May 16, 2022 (MLN): Responding to the worst economic scenario along with political noise, the Pakistani rupee (PKR) crashed by 1.7 rupees against the US dollar as the currency settled today's trade at 194.18, compared to the previous close of 192.53 per USD.
Throughout the day, the rupee endured a highly volatile trading session with quotes being recorded in a range of 2.2 rupees per USD showing an intraday high bid of 194.20 and an intraday low offer of 192.30.
The country is going through the extremely worst economic crisis and cherry on the top, the melting reserves with no clue of IMF tranche and funding from friend countries have created a strong spell of uncertainty.
Speaking to Mettis Global, Zafar Paracha, President of Exchange Companies Association of Pakistan (ECAP) said, given the circumstances, Pakistan is at a distance of only 35 to 40 days from Sri Lanka like-crisis.
On the other hand, Malik Bostan, President of Forex Association of Pakistan is hopeful that the dollar will soon reach between 180 to 182 in open market if timely measures will be taken.
Adding to it, he said, "There is a dire need to increase the exports and exporters should immediately bring dollars to the country."
Meanwhile, the government should also take steps to control the elements of dollar smuggling from Pakistan.
Within the open market, PKR was traded at 193.50/195 per USD.
From July'21 to date, the local unit has lost Rs36.63 against the USD. Similarly, the rupee fell by Rs17.66 in CYTD, with the month-to-date (MTD) position showing a wither of 3.37%, as per data compiled by Mettis Global.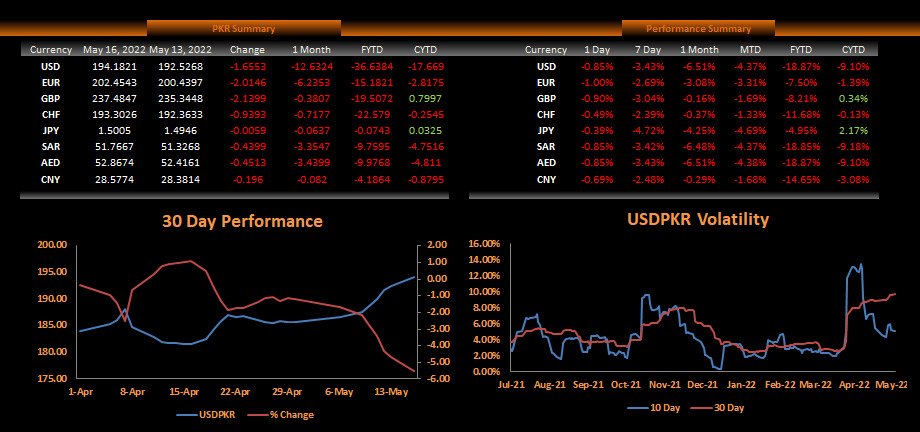 In addition, the performance of PKR remained bleak against major currencies in the month to date as it weakened by 4.69%, 4.38%, 4.37%, 3.31%, 1.69%, and 1.68%, against JPY, AED, SAR, EUR, GBP, and CNY, respectively.
During the last 52 weeks, PKR lost 21.42% against the greenback, reached its lowest at 194.18 today, and touched its high of 152.59 on May 17, 2021.
Furthermore, the local unit has weakened by 8.47% since its high on May 17, 2021, against EUR.  While, it has dropped by 9.39% against GBP since its high on May 17, 2021.

Meanwhile, the currency lost 2.1 rupees to the Pound Sterling as the day's closing quote stood at PKR 237.48 per GBP, while the previous session closed at PKR 235.34 per GBP.
Similarly, PKR's value weakened by 2 rupees against EUR which closed at PKR 202.45 at the interbank today.
The overnight repo rate towards the close of the session was 12.00/12.20 percent, whereas the 1-week rate was 12.45/12.55 percent.
Copyright Mettis Link News
Posted on: 2022-05-16T16:57:48+05:00
32755