June 30, 2022 (MLN): Riding on the upward trail, the Pakistani rupee (PKR) has further gained 1.37 rupees against the greenback in the interbank market during early trade compared to the previous close of PKR 205.12 per USD. 
The local unit is being traded at PKR204.25/204.75 [10:00 PST] with the trades being reported at PKR 203.75 per USD. 
This appreciation is attributable to the government's unpopular decisions to comply with the IMF tranche.
The government is on its toes to unlock the IMF deal as soon as possible to bring the economic stability back. As a result, the National Assembly on Wednesday passed the Finance Bill-2022 after clause-by-clause consideration and adopting certain amendments in it.
During the debate on the Finance Bill, Minister of State for Finance and Revenue Aisha Ghaus Pasha said that there had been no pressure from the fund to integrate amendments in the federal budget 2022-23 saying that the changes had been made in the larger interest of the country.
However, experts are of the view that this appreciation in PKR is short-lived due to a prolonged bullish rally of oil prices in the international market.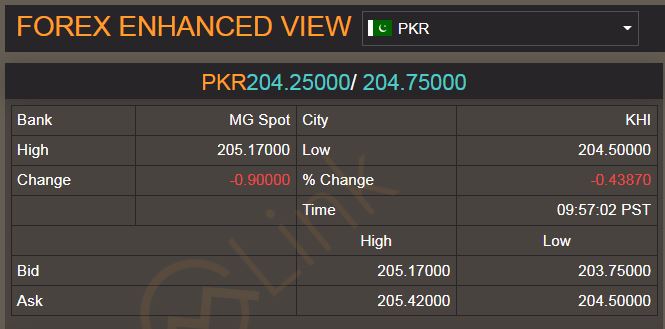 Copyright Mettis Link News
Posted on: 2022-06-30T10:00:35+05:00
33821