May 17, 2022 (MLN): The Pakistani Rupee weakened to another new all-time low of 195.74 against the US dollar, as weak macros, prevailing uncertainty on the resumption of the International Monetary Fund (IMF) program, and depleting foreign exchange reserves sparked fears of the worst economic crisis.
The domestic unit fell by 1.6 rupees against yesterday's closing of PKR194.18 per USD.
In the course of the day, the local unit moved in a band of 2.10 rupees to a US dollar, showing an intraday high bid of 196.00 and an intraday low offer of 194.50. 
As per the economic managers, the economic crisis is usually characterized by a balance of payments crisis, declining foreign reserves, currency depreciation, rising inflation rates, higher debt, and fiscal deficits.
Amid rapid depletion in foreign exchange reserves and delay in IMF tranche and funding from friendly countries have triggered a spell of uncertainty.
Commenting on this free fall of domestic currency, an independent Economist, Ali Khizar said on Twitter, "Time is running out. The PKR/USD is fast approaching 200. The uncertainty is the killer.
Exporters are holding back while importers are advancing imports (in anticipation of PKR depreciation and could be banned on products due to would-be economic emergency), he noted.
According to Asad Rizvi, former Treasury Head-Chase Manhattan Bank, "Even persistent inflow of record remittances is not helping."
Depleting forex reserves, inflow delay & quieter SBP are giving jitters to the market. But surging oil prices beyond $110 is disastrous, he added.
It is expected that PM Shehbaz Sharif may announce some tough decisions while taking the nation in confidence to curtail deterioration on the macro front, as per media reports.
From July'21 to date, the local unit has lost Rs38.20 or 19.51% against the USD. Similarly, the rupee fell by Rs19.23 or 9.82% in CYTD, with the month-to-date (MTD) position showing a decline of 5.14%, as per data compiled by Mettis Global.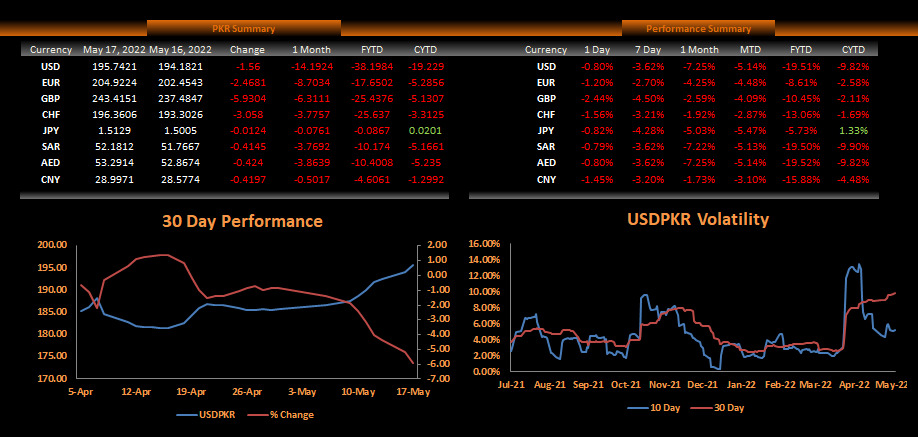 In addition, the seven days' performance of PKR remained bleak against major currencies as it weakened by 4.28%, 3.62%, 3.62%, 2.70%, 4.50%, and 3.20%, against JPY, AED, SAR, EUR, GBP, and CNY, respectively.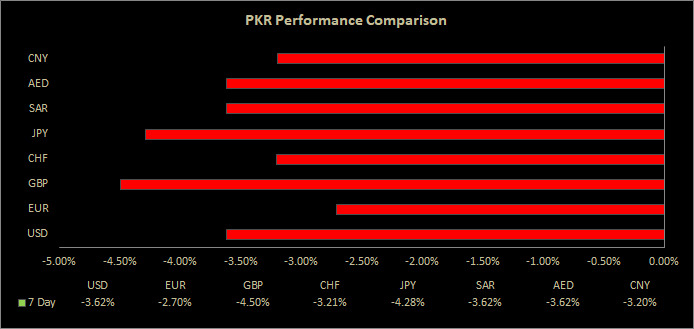 During the last 52 weeks, PKR lost 21.89% against the greenback, reached its lowest at 195.74 today, and touched its high of 152.89 on May 17, 2021.
Furthermore, the local unit depreciated by 8.85% since its high on July 02, 2021, against EUR.  While, it dropped by 11.03% against GBP since its high on May 20, 2021.

Within the open market, PKR was traded at 196.50/198 per USD.
Meanwhile, the currency lost 5.9 rupees to the Pound Sterling as the day's closing quote stood at PKR 243.42 per GBP, while the previous session closed at PKR 237.48 per GBP.
Similarly, PKR's value weakened by 2.5 rupees against EUR which closed at PKR 204.92 at the interbank today.
On another note, within the money market, the overnight repo rate towards the close of the session was 12.10/12.25 percent, whereas the 1-week rate was 12.31/12.41 percent.
Copyright Mettis Link News
Posted on: 2022-05-17T16:50:21+05:00
32778