January 06, 2022 (MLN): Pakistani rupee (PKR) dropped its value against the US dollar by 18 paisa in today's interbank session as the currency settled the trade at PKR 176.92 per USD.  
The rupee traded in a range of 55 paisa per USD showing an intraday high bid of 177.25 and an intraday low offer of 176.70.
The domestic unit depreciated by 40 paisa during the past three trading sessions in CY22.
Meanwhile, the currency witnesses a dip of PKR10.95 or 19.37% in the fiscal year to date while, the month-to-date (MTD) position shows a decline of 0.23%, as per data compiled by Mettis Global.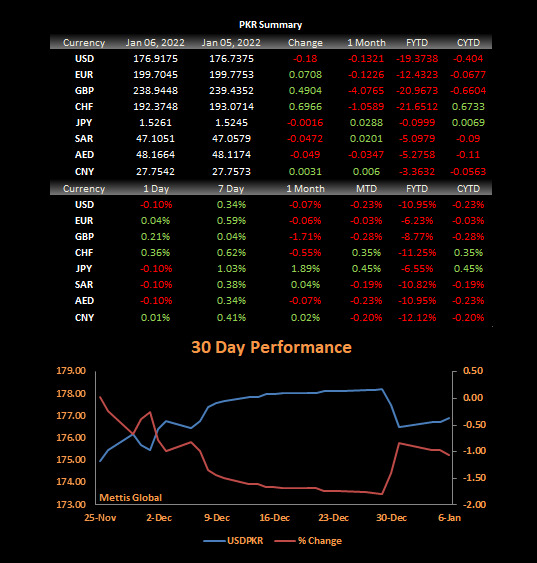 In its recent attempt with an objective to improve the timely inflow of foreign exchange from exports proceeds in the market, the State Bank of Pakistan (SBP) has amended foreign exchange regulations requiring exporters to bring export proceeds within a maximum period of 120 days from the date of shipment.
Earlier the exporters were required to bring their export proceeds within a maximum period of 180 days.
Commenting on SBP's aforestated measure, Asad Rizvi, the former Treasury Head at Chase Manhattan said that narrowing the number of days will initially speed up the pace of inflow, but it will not increase the receivables significantly unless exports pick up.
"Hence impact will be thin," he added.
As per the Exchange Companies Association of Pakistan (ECAP), the buying and selling rates of PKR stood at 178.20 and 179 respectively in the open market.
Alternatively, the currency gained 49 paisa against the Pound Sterling as the day's closing quote stood at PKR 238.94 per GBP, while the previous session closed at PKR 239.44 per GBP.
Similarly, PKR's value strengthened by 7 paisa against EUR which closed at PKR 199.7 at the interbank today.
Within the money market, The State Bank of Pakistan (SBP) conducted Open Market Operation (OMO) today, in which it injected Rs390.3 billion into the market for one day at 9.95%.
On another note, the overnight repo rate towards the close of the session was 10.00/10.10 percent, whereas the 1-week rate was 9.95/10.05 percent.
Copyright Mettis Link News
Posted on: 2022-01-06T16:13:41+05:00
30006