June 23, 2022 (MLN): Amid prevailing positive sentiment across the interbank market after the news of the incoming inflow of $2.3bn from China, the Pakistani rupee (PKR) managed to gain its ground by 4.7 rupees against the US dollar as the currency settled the day's trade at PKR 207.23 per USD.
During the session, the rupee traded in a range of 4 rupees showing an intraday high bid of 210.50 and an intraday low offer of 207.25 while in the open market, the local was being traded at PKR207/209 per USD.
The demand for the dollar remained suppressed as uncertainty on the IMF front and concerns over melting reserves have been wearing off after yesterday's announcement made by Miftah Ismail wherein he mentioned that Pakistan is going to receive $2.3bn within a few days.
In addition to it, the downward slide of oil prices in the international market has also played a catalyst role to remove uncertainty among importers.
Zafar Paracha, President of Exchange Companies Association of Pakistan told Mettis Global that IMF has not yet transferred any amount to Pakistan rather highlighted the conditions pertaining to fiscal consolidation once again that needs to be fulfilled.
If this positive development sustains, the local unit is likely to recover in the near term, he anticipated.
Similarly, PKR's value strengthened by 5 rupees or 2.30% against EUR which closed at PKR 217.74 at the interbank today.
The local unit has also appreciated against SAR, AED, CHF, CNY, and JPY by 2.27%, 2.27%, 2.18%, 2.16%, and 1.80%, respectively.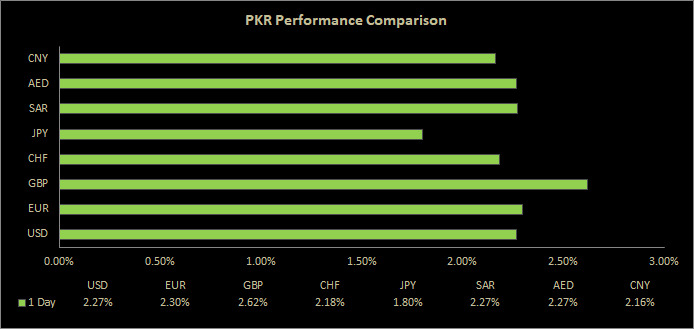 From July'21 to date, the local unit has lost Rs49.68 against the USD. Similarly, the rupee fell by Rs30.71 in CY21, with the month-to-date (MTD) position showing a decline of 4.23%, as per data compiled by Mettis Global.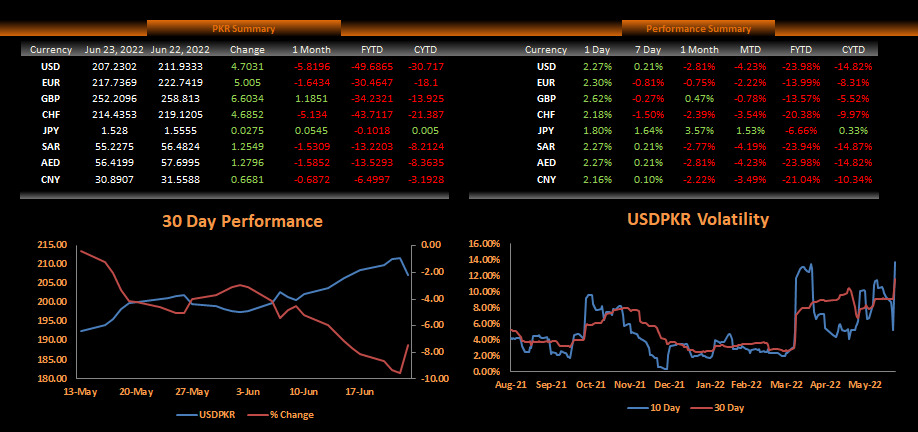 During the last 52 weeks, PKR lost 23.98% against the greenback while reaching its lowest at 211.93 June 22, 2022, and the highest of 157.54 on June 30, 2021.
Furthermore, the local unit has weakened by 14.21% since its high on July 02, 2021, against EUR while, it has dropped by 13.85% against GBP since its high on July 02, 2021.

On another note, within the money market, the State Bank of Pakistan (SBP) conducted an Open Market Operation (OMO) in which it mopped up Rs200 billion into the market for 1 day at 13.65 percent.
The overnight repo rate towards the close of the session was 13.00/13.25 percent, whereas the 1-week rate was 13.30/13.40 percent.
Copyright Mettis Link News
Posted on: 2022-06-23T15:36:55+05:00
33668