October 8, 2021 (MLN): At the onset of FY22, the government set a massive target of Rs610bn worth of Petroleum Development Levy (PDL). This was right after the government surpassed the seemingly impossible target of Rs450bn set for FY21.
Now the target seems beyond the bounds of possibility as at this point since only 3% of the measure has been achieved in 1QFY22 and stubbornly high inflationary pressures from stellar oil prices continue to consume a massive portion of the hike in retail fuel prices.
According to the report by JS Global, it appears now that this may have been a 'heat-of-the-moment decision as analysis of the PDL collection so far does not draw a promising conclusion.
In a perfect world, the federal books would, by the end of the first quarter, reflect PDL collection of Rs152.5bn i.e., 25% of the target. Sadly, the government actually stands with less than Rs18bn in PDL collection. There is no easy way to say that less than 3% of the target so far, it added.
To shelter the masses from the impact of higher crude prices, the government had to maintain PDL at below Rs4/litre on average during 1QFY22. In FY21, it was averaged over Rs20/litre.
With international oil prices not likely to go South in the near term, it seems that some difficult economic decisions are in order. However, pushing up prices of retail fuels far into unchartered territory would have detrimental impacts on economically sensitive and worrying matters of inflation, the report highlighted.
To note, on October 1, 2021, the government increased the price of petrol by Rs4 per litre to Rs127.30 per litre and that of high-speed diesel (HSD) by Rs2 per litre to Rs122.04 per litre. Meanwhile, the prices of kerosene oil and light diesel oil (LDO) were increased by Rs7.05 and Rs8.82 per litre to Rs99.31 and Rs99.51 per litre, respectively.
As per the report estimates, for every Rs10/Litre rise in fuel rates, ceteris paribus, the headline inflation jumps by 0.23-0.25ppts.
Considering the need for petroleum levy collection from this point onwards, the impact of additional levy translates into 0.7ppts; which can be exacerbated by the transmission of rising oil prices and Rupee depreciation.
Assuming volumetric sales grow by 10% YoY in FY22, the report estimates that the government will have to charge an average of over Rs34/Litre for the remaining calendar.
In fact, to achieve the set target while keeping the levy within the legal cap of Rs30/Litre, the volumetric sales will have to go up by a massive 24% YoY in FY22, the report forecasted. Coincidently, this is exactly the growth seen during 1QFY22 where volumetric sales swelled to 5.86mn tons from 4.74mn tons during the same quarter last year.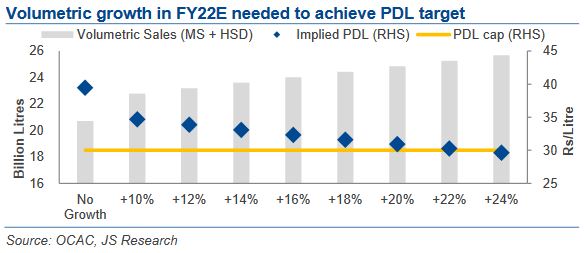 Copyright Mettis Link News
Posted on: 2021-10-08T11:21:34+05:00
27323