September 15, 2021 (MLN): The Large-Scale Manufacturing Industries (LSMI) of the country witnessed a growth of 2.25% YoY during July'21 compared to the same month last year.
The Ministry of Finance, in its Monthly Economic Update & Outlook for July 2021 highlighted that recent months have shown significant LSM growth rates, which will continue in July. This reflects low base effects, but also the strong momentum of the current economic expansion.
While, LSMI decreased by 4.91% if compared to the previous month (June'21), according to the data issued by the Pakistan Bureau of Statistics (PBS) today.
Meanwhile, the major sectors that showed growth during July'21 included Textile (1.24 percent), Food, Beverages & Tobacco (0.55 percent), Pharmaceuticals (9.98 percent), Chemicals (13.6 percent), Automobiles (44.62 percent), Iron and steel products (11.34 percent), Fertilizers (3.52 percent), Electronics (1.4 percent), Leather Products (11.72 percent), Engineering products (5.55 percent) and Wood products (24.2 percent).
On the other hand, the LSM industries that witnessed negative growth, included Coke & Petroleum products which declined by 3.57 percent, while the Non-metallic Minerals production plunged by 10.44 percent, Paper & Board production by 8.82 percent, and Rubber products by 35.53 percent.
It is pertinent to mention here that the provisional QIM for July'21 with the base year 2005-06 has been developed on the basis of the latest production data received from sources including the Oil Companies Advisory Committee (OCAC), Ministry of Industries and Production (MoIP) and Provincial Bureaus of Statistics (PBoS).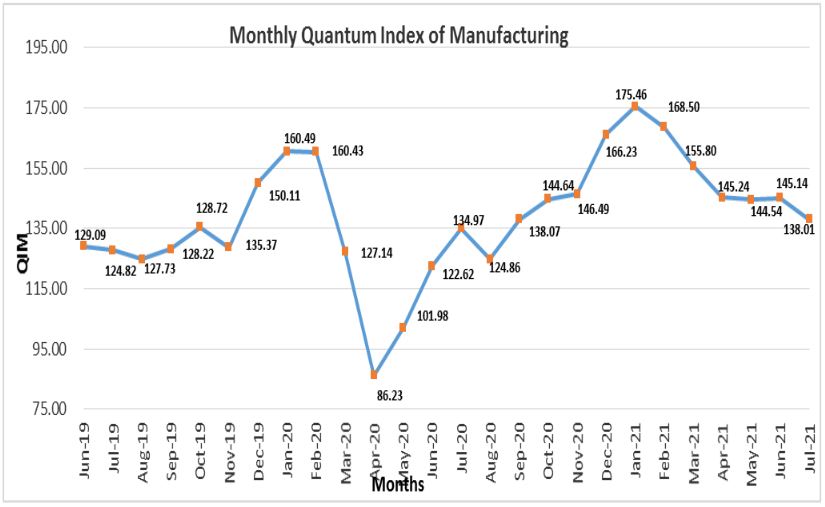 Copyright Mettis Link News
Posted on: 2021-09-15T16:47:25+05:00
26868