May 31, 2022 (MLN): Supported by much clarity on the International Monetary Fund (IMF) front, the Pakistani Rupee (PKR) has continued its upward momentum, appreciating by 71 paisa against the US Dollar (USD) in an intraday trade on Tuesday.
The dollar was quoted at 198.55/ 198.65 (12:24 PST) when compared to the previous close of Rs199.06.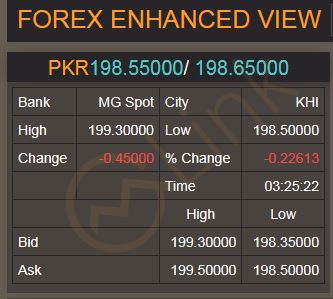 In an open market, the rupee was traded at 197.50/199.25.
Minister for Finance and Revenue, Miftah Ismail recently stated that the staff-level agreement with the IMF would be signed next month i.e.in June 2022.
Yesterday, the rupee closed at 199.06. It gained for the 2nd day after its one-sided journey seen in the last few weeks. The market is now hoping for an IMF announcement that has many strings attached, Asad Rizvi, the former Treasury Head-Chase Manhattan Bank tweeted today.
The delay could give some more jitters. But the EU banning Russian oil is negative news for us, he noted.
Copyright Mettis Link News
Posted on: 2022-05-31T12:26:30+05:00
33072