March 01, 2022 (MLN): With a respite from housing and energy utility prices, Pakistan's cost of living eased to 12.24 percent year-on-year in February 2022 from 13 percent in January 202, indicating that the economy has somewhat ironed out the impact of high inflation fears due to base effect.  
February's consumer price index (CPI), a gauge that measures the cost of dozens of items, records the third consecutive figure of over 12%.  On a sequential basis, it rose by 1.2%, compared with 0.4% in January, driven majorly by changes in the Food and Transportation indices. With this, the average inflation for 8MFY22 arrived at 10.52% YoY against 8.25% YoY in the corresponding period last fiscal year.
The last time double-digit figure was recorded in April 2021 (11.1% YoY), after which it hit a low of 8.4% in July 2021 during the ongoing fiscal year. Since then, prices have been rising on an annual basis and reached 12.3% in December 2021, a 22-month high due to a higher food index.
There is a mixed story in different types of expenditures. Household energy prices and rentals observed a notable decline from January to February with an impact of -0.4% MoM given a 7.8% MoM fall in electricity price. However, there were jumps elsewhere on a sequential basis including food group and transport, thanks to a continuous rise in perishable food items and higher local petrol prices that surged by an average of 5% MoM to record levels.
On the yearly basis, the uptick in CPI was led by the increase in transport, food, restaurants & hotels, household & equipment maintenance, health, miscellaneous, clothing & footwear, housing, and Education by 25%, 14.7%, 14.39%, 13.44%, 10.11%, 10.07%, 9.67%, 8.99%, 3.4%, YoY, respectively.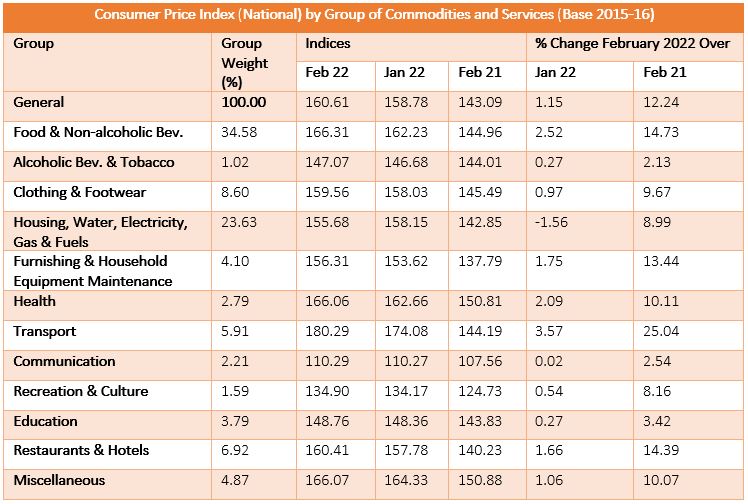 Meanwhile, urban core inflation measured by non-food, non-energy (NFNE) decelerated in February to 7.8% YoY from 8.2% in January whereas, rural core inflation has increased to 9.4% in February, slightly higher than the previous outturn of 9.0%.
On an MoM basis, urban and rural core inflation both were up 0.8% MoM and 0.9% MoM, respectively. It is the first time in four months that core inflation rose by less than 1% MoM.
Outlook
Last day, PM Imran Khan announced a relief package aimed at alleviating inflations pressures from the masses in the wake of storming commodity prices. The populous measures include an Rs10/liter reduction in petrol and diesel prices; which is likely to push down the transportation index from March onwards.
The package also included a reduction in power tariff of Rs5.0/kWh for certain consumers. It is expected that the combined effect of the two measures is a reduction in future inflation by 1.0-1.5ppt, all else the same. It is expected that inflation might slip into single digits post-October 2022, mainly due to a high base effect and potential moderation of global commodity prices, a research note by Intermarket Securities said.
However, with Ramadan around the corner, the surge in prices of perishable and non-perishable food items are likely to keep food inflation up, Sana Tawfik, Analyst at Arif Habib Limited said.
On the monetary policy front, the SBP kept the policy rate unchanged at 9.75% in its last Jan'22 Monetary Policy Statement (MPS). The committee mentioned that it was no longer targeting mildly positive interest rates as it believed the current levels appeared appropriate for the economy. Given this, in the upcoming MPS of Mar'22, it is expected that the SBP to maintain the status quo.
Copyright Mettis Link News
Posted on: 2022-03-01T17:57:14+05:00
31160