March 18, 2022 (MLN): Most APAC banking systems have minimal direct exposure to fallout from the war in Ukraine, says Fitch Ratings. However, there could be indirect effects on regional banks' creditworthiness through the conflict's impact on global prices, interest rates, supply chains and macroeconomic performance, particularly if the violence is sustained over a long period.
Around half of bank Issuer Default Ratings (IDRs) for Fitch's portfolio in APAC are underpinned by expectations of extraordinary support, mostly from sovereigns. This proportion rises to two-thirds among emerging markets (EMs). Fitch believes that the Russia-Ukraine conflict has raised risks for some EM sovereigns.
APAC frontier markets like Sri Lanka that already confront external financing challenges will face more pressure. Fiscal consolidation efforts in the wake of the Covid-19 pandemic could also be set back in countries such as India if higher global oil prices prompt authorities to increase fuel subsidies. If these trends result in negative sovereign rating actions, that could drive related actions for support-driven bank IDRs in the relevant jurisdictions, the report noted.
Fitch expects the risk of bank IDR downgrades to be higher where sovereign ratings are already on Negative Outlook. Notably, there are a higher number of banks in India and the Philippines with Negative Outlooks mirroring the sovereign.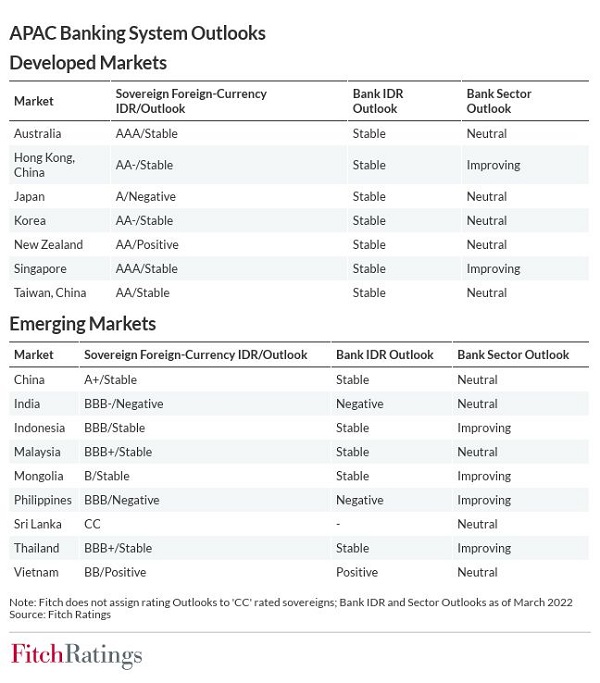 Direct banking-system exposure to lending and investment in Russia and Ukraine varies across APAC, but the report estimates it is generally less than 0.5% of total assets and thus unlikely to pose systemic risks. It believes direct exposures may be higher in Mongolia, but stronger global commodity prices, notably for coal, may offset risks for the banking sector. Higher commodity prices should also strengthen repayment capacity for other APAC mining firms and agricultural producers.
Indirect exposures, including credit and market risks, may be more significant. The war in Ukraine could lead to some revisions in sector outlooks, which are mostly neutral to improving at present, based on fitch expectations of sector performance in 2022 compared with 2021.
Credit risks in APAC may increase as a result of the conflict's role in driving higher global commodity prices (especially for energy), supply chain disruption, and faster-than-expected increases in interest rates. Economic growth in APAC will be weaker than Fitch had anticipated before the war. Banks may also face additional operational risks and costs complying with war-related sanctions.
The report believes that these developments are more likely to counter net interest margin improvements, and thus buffet profitability, in APAC banking systems than to result in meaningful capital erosion. Credit risks from the war may require additional provisioning, or delay reversals, that banks had previously anticipated. However, Fitch considers provisioning in most regional systems as broadly appropriate and its sector forecasts had already factored in some asset quality weakening in several markets, which means adjustments are unlikely to be large. Individual banks in APAC have varying degrees of headroom within their standalone Viability Ratings to accommodate these pressures.
Authorities in some jurisdictions may consider extending forbearance schemes established in response to the pandemic.  As per the report, this is more likely in markets where macroeconomic stresses are also rising due to Covid-19 outbreaks, such as in Hong Kong. This would alleviate near-term pressure on bank profitability but could obscure underlying asset quality, especially in markets where forbearance has been in place for an extended period, such as in India and Indonesia.
The war may also add to pressure on EM exchange rates, especially in net commodity importing countries, as well as increase exchange-rate volatility. Still, the report does not expect foreign-currency liquidity to pose major risks for most APAC banks, except in markets where there are already substantial challenges, like Sri Lanka.
Copyright Mettis Link News
Posted on: 2022-03-18T12:33:14+05:00
31533