November 30, 2021 (MLN): After hitting an all-time low yesterday, the Pakistani rupee (PKR) managed to gain 48 paisa against the US dollar today as the currency closed the trade at 175.72 per USD on the back of a deposit agreement signed between Saudi Fund for Development (SFD), and the State Bank of Pakistan (SBP).
Under this deposit agreement, SFD shall place a deposit of $3.0 billion with SBP. The deposit amount under the agreement shall become part of SBP's Foreign Exchange Reserves. It will help support Pakistan's foreign currency reserves and contribute towards resolving the adverse effects of the COVID-19 pandemic.
The local unit lost 74 paisa yesterday to settle the trade at PKR176.2 per USD.
The agreed SFD will push SBP's net reserves higher after receiving funds, Asad Rizvi, the former Treasury Head at Chase Manhattan said.
"But oil after dropping 11% has recovered 4%. Bounce back does not suit, as it will add pressure on BOP. Further, the trend will depend on the OPEC announcement," he added.
The rupee endured a volatile trading session with quotes being recorded in a range of 1.4 rupees per USD showing an intraday high bid of 176.40 and an intraday Low offer of 175.
Within the Open Market, PKR was traded at 176.25/178.00 per USD.
According to the data compiled by Mettis Global, the local unit has depreciated by 10.34% or PKR 18.17 in the fiscal year-to-date against the USD. Similarly, the rupee has weakened by 9.04% or PKR 15.88 in CY21, with the month-to-date (MTD) position showing a decline of 2.31%.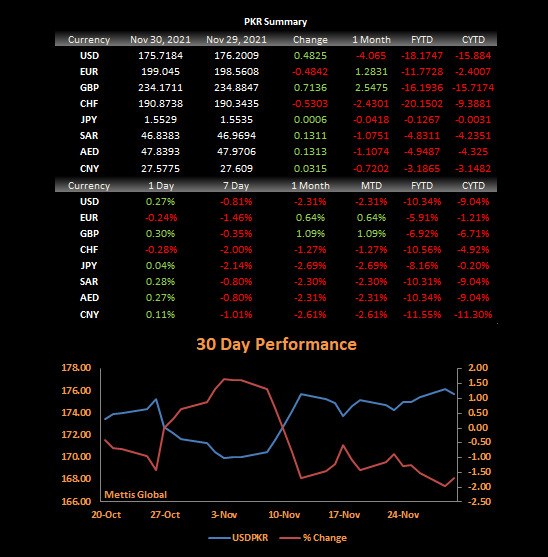 Meanwhile, the currency gained 71 paisa against the Pound Sterling as the day's closing quote stood at PKR 234.17 per GBP, while the previous session closed at PKR 234.88 per GBP.
On the other hand, PKR's value weakened by 48 paisa against EUR which closed at PKR 199.05 at the interbank today.
On another note, within the money market, the overnight repo rate towards the close of the session was 9.20/9.40 percent, whereas the 1-week rate was 8.95/9.05 percent.
Copyright Mettis Link News
Posted on: 2021-11-30T17:04:02+05:00
29336