May 22, 2022 (MLN): Domestic equities witnessed a deep fall during the departed week on the back of investors' concerns over the outcome of the IMF program whereby the fuel and electricity subsidy remains a major hurdle in getting through.
Whereas depleting foreign exchange reserves and rupee devaluating to an all-time low level of Rs201/USD together with the ongoing political upheaval also caused investor stampede, a market closing note by Arif Habib Limited cited.
Furthermore, the country posted its highest ever oil import bill in Apr'22. However, some positive to range-bound sessions were also witnessed mid-week given the finalization of estimated GDP growth by the National Accounts Committee (NAC) for FY22 at 5.97% (FY21: 5.74%) and a 39% MoM decline in CAD to USD 623mn during Apr'22, it added.
As a result, the market closed the week in red at the 43,101 points level, shedding 386 points or down by 0.89% WoW. In terms of USD, the index declined by a notable 4.66% from last week.
During the week, the bourse witnessed 2 sessions in favour of bull and 3 sessions in favour of bear. The KSE-100 index oscillated between high and low of 44,841 and 42,273 levels, respectively, before settling the week at 43,101 levels.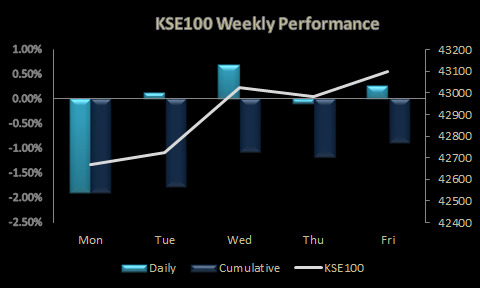 From the sector-specific lens, Oil & Gas Exploration companies, Cement, Banks, Pharmaceuticals, and Technology sectors kept the index in red territory as they snatched 148, 114, 99, 36, and 27 points from the index respectively.
Contrary to that, Chemical, Fertilizer, Engineering, Paper & Board, and Automobiles during the week collectively contributed 129 points to the bourse.
Scrip-wise, LUCK, PPL, OGDC, MEBL, and MARI were the worst-performing stocks during the week as they took away 58, 51, 43, 40, and 36 points from the index respectively. Whereas EPCL, FFC, EFERT, PKGS, and NBP collectively added 151 points to the index.
Meanwhile, the KSE All Share market cap decreased by Rs56.3 billion or 0.78% over the week, being recorded at Rs7.14 trillion as compared to a market cap of Rs7.2tr recorded last week.
Flow-wise, foreigners were the net sellers during the week, offloading stocks worth $6.1mn compared to a net purchase of $1.9mn last week. Sector-wise, major selling was witnessed in Fertilizer ($1.9mn) and Banks ($1.3mn).
On the local side, the majority of the buying was reported by Banks and Individuals amounting to $11.5mn and $4.4mn, respectively. However, Mutual Funds and Organizations stood on the other side with net selling of $7.2mn and $1.4mn respectively.
Copyright Mettis Link News
Posted on: 2022-05-22T16:32:10+05:00
32881