November 30, 2021 (MLN): Pakistan's economy is confronted with persistent inflationary pressure following the balance of payments crises on the back of an exceptional surge in international commodity prices. However, the pressure will ease out in the coming months owing to the apt policy measures taken by the government, Finance Ministry said in its monthly outlook for the month of November'21 issued today.
Keeping in view the performance of various economic indicators, the report said, "The economy is on track to achieve the growth target for FY22."
With regards to inflation, the report underlined that CPI inflation during Jul-Oct FY 2022 was recorded at 8.74 percent against 8.87 percent during the same period last year. Inflation had started declining after surging to 11.1 percent in April, mainly driven by a drop in the prices of agricultural products.
Food prices have risen globally due to the shortage of supply of commodities and high demand. Pakistan has also been affected, as the country is a net importer of food items especially wheat, sugar, pulses, and edible oil.
To cope with the situation, the government has already announced Rs 120 billion package, jointly funded by the Federal and Provincial governments which will provide a 30 percent discount on ghee, flour, and pulses to 130 million deserving people. On the other hand, new impulses in November may originate due to the rise in international commodity prices.
Globally, the prices of crude oil along with all other energy inputs are on the rising trend due to increasing global demand post-COVID-19 scenarios. Added with this, a rise in freight charges has made international trade costly and caused a hike in global inflation.
Even though the international price of crude oil rose by 106.7 percent on a YoY basis but the government did not pass it completely to the domestic consumers and adjusted duty to provide relief to the general public, the report claimed.
On the agriculture side, the revised estimates for cotton production released by the Cotton Crop Assessment Committee (CCAC) are more encouraging as it posted the production of 9.4 million bales against last year's production of 7.1 million bales showing an increase of 32.8 percent. The inputs situation remained favorable as farm tractors production and sales increased by 14.0 percent in July-Oct FY2022. Agriculture credit disbursement increased by 6.5 percent to Rs381.3 billion compared to Rs 358.0 billion during the same period last year.  The inputs availability will remain satisfactory as more certified seeds for wheat, gram and maize will be ensured for Rabi 2021-22 season.
The credit to agriculture also shows an increasing trend in FY22, thus it is expected that in the absence of any adverse climate shock, the agriculture sector will perform better. 
According to the report, it is expected that LSM will resume moderate growth in the coming months compared to the level observed in September, despite an expected negative seasonal effect, usually observed in the month of October and may take an upswing in the later months. LSM posted a  growth of 5.15 percent in the first quarter of FY22 against the growth of 4.53 percent same period last year.
The monthly Economic Indicator (MEI) is on a higher level since March 2021, as compared to the previous months. This is based on favorable movements observed in macroeconomic high-frequency indicators such as growth in LSM and strong recovery in Pakistan's main trading partners. The MEI is expected to remain strong on the back of observed favorable movements in macroeconomic high-frequency indicators especially growth in LSM with strong multiplier effects in services sectors.???????
In October, the growth dynamics are expected to continue as per the expected manufacturing production supported by the higher imports of capital goods during July-Oct FY22.
On the external side, the report expects that recent steps taken in terms of monetary policy and other measures to curb unnecessary imports will be helpful in keeping the expansion of imports under control while the exports will start moving upward on the back of specific government policies to stimulate exports and low level of the Real Effective Exchange Rate (REER).
However, these dynamics may be hindered if the economic conditions in the main export markets would take a turn for the worse, although this is not the baseline scenario, it noted.
To note, imports grew by 66 percent to $23.5 billion as compared to $14.1 billion last year. Exports on fob grew by 32.2 percent during July-Oct FY22 and reached $9.7 billion or $7.3 billion last year.
the current account posted a deficit of $5.1 billion or 4.7 percent of GDP for Jul-Oct FY22 as against a surplus of $1.3 billion or 1.4 percent of GDP last year. The current account deficit widened due to the constantly growing import volume of energy and non-energy commodities, along with a rising trend in the global commodity prices, COVID-19 vaccines, food, and metals.
The report also added, "If remittances inflows remain at around current levels and given the expected other components of secondary income, as well as primary income balance, the expected improvement in the trade balance will be reflected in the overall current account balance."
This is the baseline scenario and further ongoing developments will be monitored closely, it said.
In July-Oct FY22, workers' remittances reached $ 10.6 billion or $9.4 billion last year, increased by 11.9 percent. Workers' remittances continued their unprecedented streak of above $2 billion for the 17th consecutive month till October 2021. YoY remittances grew by 10.2 percent to $2.5 billion in October 2021 or $2.3 billion in October 2020.
In addition, the fiscal performance remained strong during the first quarter of the current fiscal year on the back of healthy growth in tax revenues, careful expenditure management, and a higher provincial surplus. The fiscal deficit narrowed to 0.8 percent of GDP in Q1 FY2022, down from 1.1 percent last year, as revenue growth outpaced the growth in expenditures.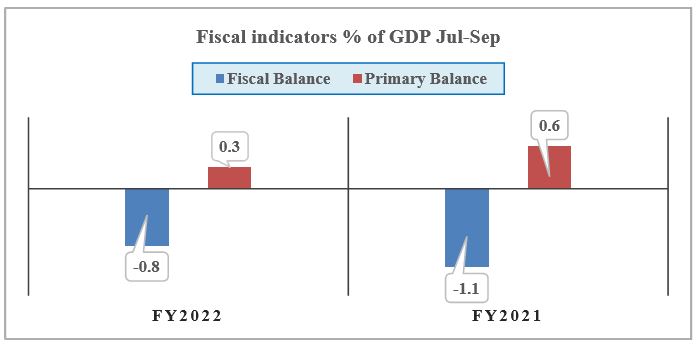 Within revenues, FBR tax collection has witnessed a sharp rise during July-Oct FY2022. FBR is highly committed to further improving tax collection through documentation and maximum taxpayer facilitation. FBR tax revenues increased significantly during Jul- Oct FY2022, exceeding its target by 14.7 percent for the period. In absolute terms, FBR collected Rs 235.9 billion higher revenues than the target fixed for Jul-Oct FY2022.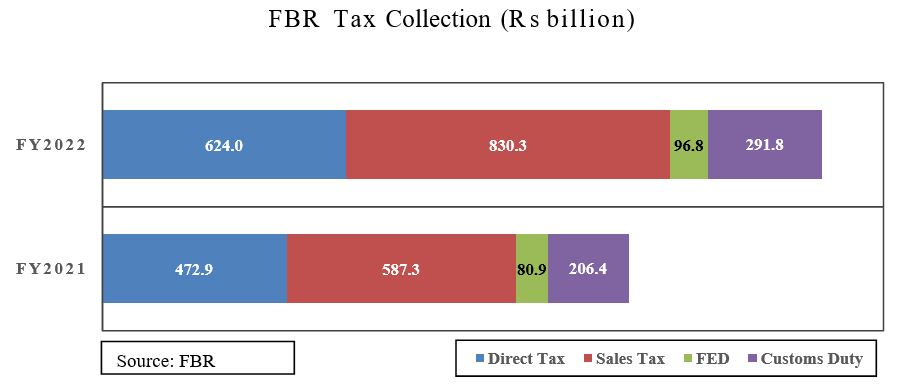 On the monetary policy front, SBP is redirecting monetary policy from an accommodative to a more neutral stance. SBP raised the policy rate by 150 basis points to 8.75 percent on November 19, 2021, owing to associated risks related to inflation and BoP while the outlook for growth has continued to improve.
These measures should contain the current account deficit for the current fiscal year within a manageable and financeable proportion. This will also help to adjust the pressure on the exchange rate and hence on expected inflation.
Moreover, IMF has also acknowledged that based on available data, the government's extensive policy response to the COVID 19 pandemic had helped minimize its human and macroeconomic repercussions and thus resulting in a strong economic recovery, it mentioned.
External pressures, on the other hand, have begun to materialize, mostly due to the compound impacts of increased economic activity, an expansionary macroeconomic policy mix, and rising international commodity prices.
Copyright Mettis Link News
Posted on: 2021-11-30T13:17:39+05:00
29330