October 8, 2021 (MLN): After witnessing a depressing round on the back of the global energy crisis, coal prices took a breather on October 6, 2021, in the international market as it dropped by 13.45% DoD to trade at USD 237.15 per metric tons.
However, the commodity is still under the pressure owing to supply shortages. The resurgence of post-pandemic demand amid global economic recovery has strained the supply chain as the energy sector is largely dependent on fossil fuels.
Currently, the coal (CIF ARA) is being traded at USD 235 per MT (PST:12:30).
The coal prices started marching up since June'2021 throwing the ques regarding energy crunch, from which the world, especially the Asian Markets are going through.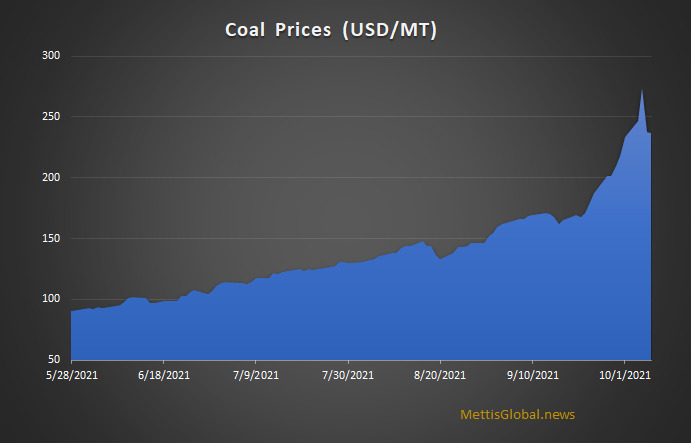 According to experts, the ongoing crisis is expected to last at least through the winter, which has raised concerns in many countries regarding fuel shortages in months to come.
Even, Pakistan's equity market felt a jolt given roaring coal prices that had trapped the cement sector which could be seen through the plummeted numbers of the recently issued data of cement despatches for the month of September'21.
In order to mitigate the supply bottlenecks and boost annual output capacity by 100 million tonnes, North China's Inner Mongolia's energy department asked cities of Wuhai, Ordos, and Hulunbuir, as well as Xilingol League, to immediately notify the miners to operate at stipulated higher capacities, provided they ensure safe production.
The above directives were communicated through an urgent notice dated October 7, 2021, a report by Reuters noted.  
The 72 mines listed by the Inner Mongolia energy bureau, most of which are open pits, previously had an authorized annual capacity of 178.45 million tonnes.
An official with the energy bureau confirmed the notice but declined to say how long this production boost would be allowed to last.
It is also stated that the move is the latest attempt by authorities in China to boost coal supply amid record-high prices and shortages of electricity that have led to power rationing across the country.
"This demonstrates the government is serious about raising local coal production to ease the shortage," said a Beijing-based trader, who estimated the production boost may take up to two to three months to materialize.
At 100 million tonnes, the proposed increase in output would make up nearly 3% of China's total thermal coal consumption.
The notice proposed the increase their production capacity by 98.35 million tonnes combined, according to Reuters calculations, lifting their total authorized annual capacity up to 276.8 million tonnes, the report said.
Copyright Mettis Link News
Posted on: 2021-10-08T12:56:37+05:00
27326