September 18, 2022 (MLN): This week, the benchmark KSE-100 index lost 269 points and closed at 41,679 points level, amid weak economic indicators, political uncertainty and the recent round of rupee devaluation.
Massive losses caused by flash floods, continued pressure on the PKR, faltering trade statistics and worsening inflation outlook continued to weigh in on investor sentiment and kept market participation in check, a note by BMA Capital said.
As per the finance minister, the destruction caused by floods will set the economy back a sizable $18.5bn (5% of GDP) which has in turn raised concerns about greater imports and hence higher Current Account Deficit.
Furthermore, none of the commitments from friendly countries have materialized yet which have again raised doubts about the country's ability to repay its short-term debt. Secondly flows from multilateral and bilateral sources like the World Bank and Asia Infrastructure and Investment Bank (AIIB) which are hinging on the adoption of some tough reforms.
In USD terms, the index plummeted by 4.3% as PKR weakened by 8.7 rupees against the greenback this week to stand at PKR 228.18 per USD.
Overall, out of the total 5 sessions, the bourse witnessed 2 sessions in favour of bulls while 3 sessions were in favour of bears. The KSE-100 index oscillated between high and low of 42,312 and 41,603 levels, respectively, before settling the week at 41,679 levels.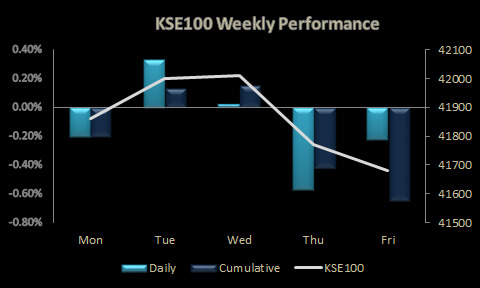 From the sector-specific lens, Banks, Cement, Fertilizer, Oil & Gas Exploration Companies, and the Food sector kept the index in red territory as they took away 175, 77, 77, 76, and 43 points from the index respectively.
Contrary to that, Technology, Power Generation & Distribution Companies, Automobile, and Oil & Gas Marketing Companies during the week collectively added 277 points to the bourse.
Scrip-wise, HBL, FFC, MEBL, PPL, and HMB were the worst-performing stocks during the week as they snatched 82, 54, 36, 28, and 24 points from the index respectively. Whereas, TRG, HUBC, UBL, MTL, and COLG collectively added 373 points to the index.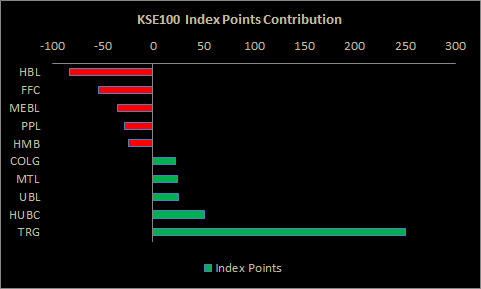 Meanwhile, the KSE All Share market cap decreased by Rs107.2 billion or 1.54% over the week, being recorded at Rs6.85 trillion as compared to a market cap of Rs6.96tr recorded last week.
Flow-wise, foreigners emerged as net buyers during the week, purchasing stocks worth $13.8mn compared to a net sell of $2.8mn last week. Major buying was witnessed in Technology ($11mn) and Other sectors ($3.1mn).
On the local side, the majority of the selling was reported by Insurance Companies ($8.5mn) followed by Mutual Funds ($3.6mn) and Individuals ($1.8mn). However, Banks stood on the other side with a net buying of $1.3mn.
Copyright Mettis Link News
Posted on:2022-09-18T15:00:59+05:00
35129