August 14, 2022 (MLN): This week, the benchmark KSE-100 index gained 761 points and closed at 42,858 points level amid confidence over the disbursement of IMF loan in the coming weeks as Pakistan has received a Letter of Intent (LoI) from the IMF.
Moreover, the positive rally was also led by the visit of Pakistan's top army officials to Saudi Arabia and UAE to ensure financial assistance amid dwindling foreign exchange reserves.
Sentiments further strengthened on the back of positive development as UAE will invest $1bn in Pakistan stocks confirmed by Finance Minister.
During the week, PKR witnessed a strong recovery in the interbank market as it gained 8.5 rupees against the US dollar during the week and clocked in at Rs 215.49/USD.
Furthermore, in the latest auction, the cut-off yields of the 3M and 6M T-bill remained unchanged which further boosted investors' sentiments.
In USD terms, the index recovered by a significant 5.84% this week.
Overall, out of the total 3 sessions, the bourse witnessed 2 sessions in favour of bulls while 1 session was in favour of bears. The KSE-100 index oscillated between high and low of 42,874 and 40,096 levels, respectively, before settling the week at 42,858 levels.
From the sector-specific lens, Banks, Oil & Gas Exploration Companies, Power Generation & Distribution Companies, Automobile, and Oil & Gas Marketing companies kept the index in green territory as they added 220, 202, 83, 55, and 53 points to the index respectively.
Contrary to that, Miscellaneous, Cement, Tobacco, Cable & Electrical Goods, and Paper & Board during the week collectively took away 63 points from the bourse.
Scrip-wise, OGDC, PPL, MEBL, POL, and HUBC were the best-performing stocks during the week as they added78, 67, 67, 55, and 51 points to the index respectively. Whereas, PSEL, NESTLE, EPCL, PAKT, and EFERT collectively snatched 118 points from the index.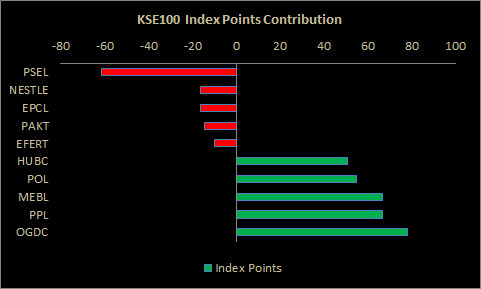 Meanwhile, the KSE All Share market cap increased by Rs126.37 billion or 1.79% over the week, being recorded at Rs7.17trillion as compared to a market cap of Rs7tr recorded last week.
Flow-wise, foreigners emerged as net sellers during the week, offloading stocks worth $0.9mn compared to a net sell of $0.69mn last week. Major selling was witnessed in Banks ($1.6mn) and Cement ($1.3mn).
On the local side, the majority of the buying was reported by Individuals ($5.1mn) followed by Other Organizations ($0.4mn).
Copyright Mettis Link News
Posted on:2022-08-14T18:54:39+05:00
34576