August 7, 2022 (MLN): This week, benchmark KSE-100 index gained 1,946 points and closed at 42,096 points level, mainly due to assurances from IMF that Pakistan has met all prior actions leading to the release of the tranche in the upcoming review and the strong recovery in PKR which recorded gains of 6.4% WoW against the greenback.
Further sentiments strengthened on the back of news flow suggesting that Pakistan has agreed an economic package to the tune of $8bn from friendly countries including Saudia Arabia, China, UAE & Qatar. This economic package will entail a mix of deferred oil facilities, safe deposits and existing debt roll-overs.
This alongside, declining international oil prices have supported the sentiment with investors expecting the import bill to come down sharply as a result, a report by BMA Capital said.
In USD terms, the index recovered by a significant 12.02% this week.
Overall, out of the total 5 sessions, the bourse witnessed 4 sessions in favor of bulls while 1 session was in favor of bears. The KSE-100 index oscillated between high and low of 42,168 and 39,763 levels, respectively, before settling the week at 40,077 levels.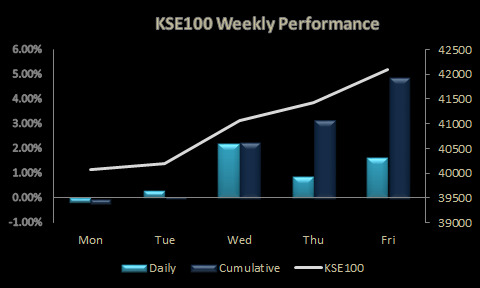 From the sector-specific lens, Banks, Cement, Chemical, Oil & Gas Marketing companies, and Automobile Assemblers kept the index in green territory as they added 427, 422, 110, 106, and 104 points to the index respectively.
Contrary to that, Close-Ended Mutual Funds, Real Estate Investment Trust, and Modarabas during the week collectively took away just 5 points from the bourse.
Scrip-wise, LUCK, UBL, MCB, PSO, and HBL were the best-performing stocks during the week as they added 155, 123, 88, 78, and 73 points to the index respectively. Whereas FABL, MARI, ILP, AICL, and HINOON collectively snatched 26 points from the index.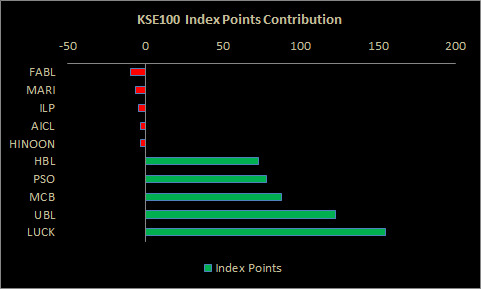 Meanwhile, the KSE All Share market cap increased by Rs275.4 billion or 4.07% over the week, being recorded at Rs7trillion as compared to a market cap of Rs6.7tr recorded last week.
Flow-wise, foreigners emerged as net sellers during the week, offloading stocks worth $0.69mn compared to a net buy of $3.43mn last week.
On the local side, the majority of the buying was reported by Mutual Funds and Brokers amounting to $1.5mn and $2.2mn, respectively. However Banks stood on the other side with net selling of $1.3mn respectively.
Copyright Mettis Link News
Posted on:2022-08-07T17:20:05+05:00
34507