June 19, 2022 (MLN): This week, KSE-100 index gained 126 points or up by 0.3% WoW to settle at 42,141 points level.
However, in terms of USD, the index declined by 2.77% as the dismal macros have further pushed the Pakistani rupee toward a colossal loss of 6.4 rupees in five consecutive sessions to settle the week at PKR 208.75, compared to the previous week's closure at PKR 202.35 per USD.
The market started the week on a on a negative note amid concerns over the dissatisfaction expressed by IMF upon measures taken in Federal Budget 2022-23, whereby the market plunged by 1,135points DoD, a note by Arif Habib Securities said.
After the bloodbath, the market sentiment turned positive amid the expectation of the exclusion of Pakistan from FATF's grey list. Moreover, the investors remained elated owed to the news flow regarding China agreeing to roll over loans worth $2.3bn to Pakistan and extending further assistance by $2.5bn to $2.8bn, it added.
Furthermore, the government increased the prices of MS and HSD by Rs24.03/ltr and Rs59.16/ltr, respectively, while completely eliminating the remaining subsidies, fulfilling one of the major conditions of IMF.
Overall, the bourse witnessed 4 sessions in favor of bull while 1 session was in favor of bear. The KSE-100 index oscillated between high and low of 42,421 and 40,658 levels, respectively, before settling the week at 42,141 levels.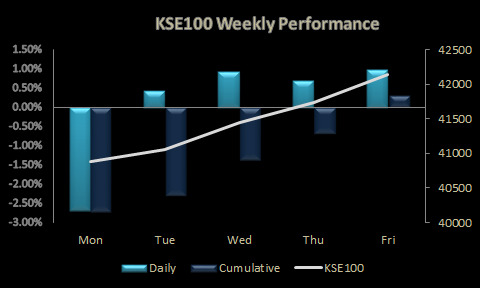 From the sector-specific lens, Oil & Gas Exploration companies, Cement, Oil & Gas Marketing Companies, Power Generation & Distribution companies, and Engineering kept the index in green territory as they added 116, 87, 80, 56, and 51 points to the index respectively.
Contrary to that, Banks, Chemical, Technology, Tobacco, and Automobile during the week collectively took away 357 points from the bourse.
Scrip-wise, HUBC, PSO, POL, PPL, and OGDC were the best-performing stocks during the week as they added 51, 50, 36, 32, and 31 points to the index respectively. Whereas UBL, MEBL, BAHL, MCB, and SCBPL collectively snatched 271 points from the index.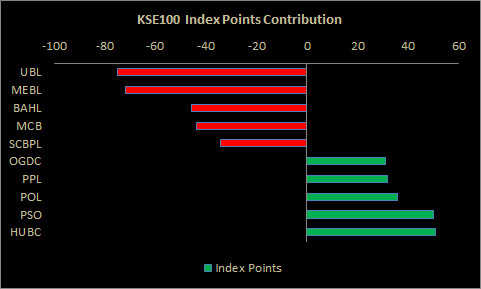 Meanwhile, the KSE All Share market cap decreased by Rs19.2 billion or 0.27% over the week, being recorded at Rs7 trillion as compared to a market cap of Rs7.02tr recorded last week.
Flow-wise, foreigners were the net sellers during the week, offloading stocks worth $1.9mn compared to a net sell of $7mn last week. Sector-wise, the major selling was observed in Banks ($1.4mn), and Fertilizer ($1.1mn).
On the local side, the majority of the buying was reported by Companies, and Individuals amounting to $10.5mn and $5.8mn, respectively. However, Insurance Companies, Brokers and Mutual Funds stood on the other side with net selling of $5.96mn, $4.4mn, and $2.9mn respectively.
Copyright Mettis Link News
Posted on: 2022-06-19T13:29:31+05:00
33546