November 14, 2022 (MLN): Pakistani rupee (PKR) depreciated by 5 paisa against the US Dollar (USD) in today's interbank session as the currency closed the day's trade at PKR 221.69 per USD, against last session's closing of PKR 221.64 per USD.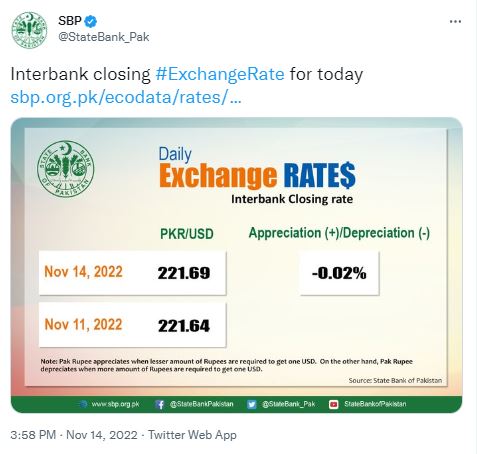 The rupee endured a volatile trading session with quotes being recorded in a range of 0.1 rupees per USD showing an intraday high bid of 221.75 and an intraday Low offer of 221.65.
Within the Open Market, PKR was traded at 225/227 per USD.
Meanwhile, the currency lost 1.8 rupees to the Pound Sterling as the day's closing quote stood at PKR 261.81 per GBP, while the previous session closed at PKR 260.03 per GBP.
Similarly, PKR's value weakened by 2.4 rupees against EUR which closed at PKR 229.31 at the interbank today.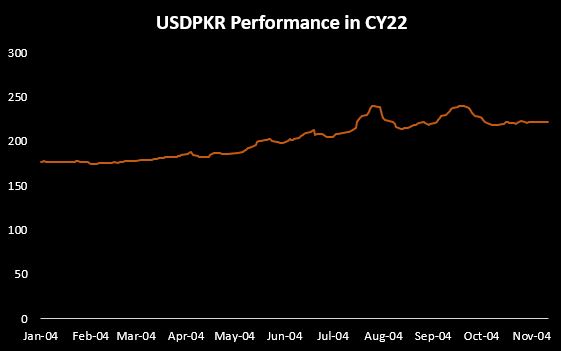 On another note, the State Bank of Pakistan (SBP) conducted an Open Market Operation (OMO) today, in which it injected Rs123 billion from the market for 4 days at 15.20%.
In addition, the SBP conducted Shariah-compliant Mudarabah OMO today, in which it injected Rs70bn into the market for four days at 15.25%.
The overnight repo rate towards close of the session was 15.20/15.40 percent, whereas the 1 week rate was 15.04/15.14 percent.
Copyright Mettis Link News
Posted on:2022-11-14T17:00:39+05:00
35855