January 12, 2022 (MLN): Continuing its upward journey, the Pakistani rupee (PKR) appreciated by 40 paisa against US Dollar (USD) in today's interbank session as the currency closed the trade at PKR 176.23.
The rupee endured a relatively dull trading session with very little intraday movement, trading in a range of 35 paisa per USD showing an intraday high bid of 176.25 and an intraday low offer of 176.00.
Speaking to Mettis Global, Ahsan Mehanti, Director Arif Habib Group said that PKR's stabilization is the result of the apt measures taken by State Bank of Pakistan (SBP) in order to improve the transparency in the foreign exchange market.
Recently, SBP has amended foreign exchange regulations requiring exporters to bring export proceeds within a maximum period of 120 days from date of shipment. Earlier the exporters were required to bring their export proceeds within a maximum period of 180 days. This move also brings in Pakistan's regulations closer to international best practices.
From July'21 to date, the local unit has lost Rs18.68 against the USD. Similarly, the rupee fell by 28 paisa in CY22, while the month-to-date (MTD) position, observed a gain of 0.16%, as per data compiled by Mettis Global.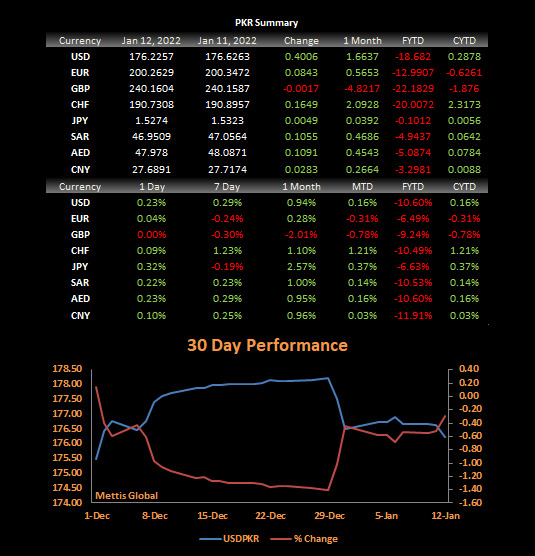 Within the Open Market, PKR was traded at 178.50/179.50 per USD.
Alternatively, the currency lost 0 paisa to the Pound Sterling as the day's closing quote stood at PKR 240.16 per GBP, while the previous session closed at PKR 240.16 per GBP.
On the other hand, PKR's value strengthened by 8 paisa against EUR which closed at PKR 200.26 at the interbank today.
On another note, within the money market, the overnight repo rate towards close of the session was 9.80/10.00 percent, whereas the 1 week rate was 9.75/9.85 percent.
Copyright Mettis Link News
Posted on: 2022-01-12T16:09:57+05:00
30130