August 03, 2022 (MLN): Witnessing a round of massive appreciation in a single session on Wednesday, the Pakistani rupee (PKR) managed to accumulate 9.8 rupees or up by 4.19% DoD against the US dollar on improved market sentiments due to improved economic fundamentals.
Accordingly, the local unit in today's interbank session settled the trade at PKR 228.8 compared to yesterday's closing of 238.38 per USD.
The rupee endured a highly volatile trading session with quotes being recorded in a range of 13.25 rupees showing an intraday high bid of 238.25 and an intraday low offer of 227. While in the open market, the domestic unit was being traded at 220/222 per USD.
Speaking to Mettis Global, Fahad Rauf, Head of Research at Ismail Iqbal Securities said that the strong appreciation reflects an improvement in liquidity in the interbank market on the back of higher export proceeds.
The notable decline in imports which narrowed down the trade deficit has played a vital role in order to improve market sentiments. Meanwhile, the positive signal from IMF has also played a catalyst role in the strong appreciation of PKR, Ahsan Mehanti, Director of Arif Habib Group told Mettis Global.
Wajid Rizvi, Head of Research at Intermarket Securities was also of the view that the recent IMF statement has played a major role in wearing off pressure from the local unit.
Going forward, if PKR continues this upward rally, it may appreciate by 8% in days to come.
Federal Minister for Finance and Revenue Miftah Ismail stated on Monday, "Government's efforts to reduce imports have now finally started showing results and the government is keen to work on making the economic crisis less."
On the same day, in an interview with Bloomberg, while giving a clue of upcoming stability he said that Pakistan sees a way out of its current economic crisis without descending into default, thanks to progress on a stalled International Monetary Fund (IMF) loan as well as spending cuts.
Meanwhile, on the IMF front, Dr. Esther Perez Ruiz, IMF's Resident Representative for Pakistan on Wednesday said, "Pakistan has completed all prior actions for loan review."
She went on to say that the country has met its last prior action of the IMF for the combined 7th and 8th review after increasing the petroleum development levy (PDL).
So, technically this development should unlock the tranche of $1.177bn, bringing total disbursements under the program to about $4.2bn which would further improve the dollar PKR parity.
In FYTD, PKR lost 23.95 rupees or 10.47%, while it plummeted by 52.28 rupees or 22.85% against the USD in CYTD, as per data compiled by Mettis Global.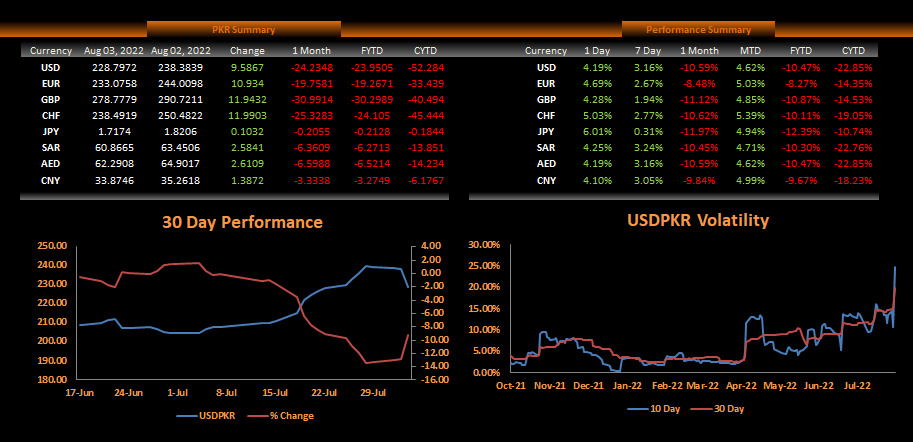 During the last 52 weeks, PKR lost 31.53% against the greenback while reaching its lowest at 239.94 on July 28, 2022, and the highest of 163.22 on August 05, 2021.
Furthermore, the local unit has weakened by 17.76% and 19.79% against EUR and GBP, respectively, since the high on August 20, 2021.

Along with the USD, the currency gained 11.9 rupees or 4.28% against the Pound Sterling as the day's closing quote stood at PKR 278.78 per GBP, while the previous session closed at PKR 290.72 per GBP. Similarly, PKR's value strengthened by 10.9 rupees or 4.69% against EUR which closed at PKR 233.08 at the interbank today.
In addition to it, PKR has also been appreciated by 6.01%, 5.03%, 4.25%, 4.19%, and 4.10% against JPY, CHF, SAR, AED, and CNY, respectively.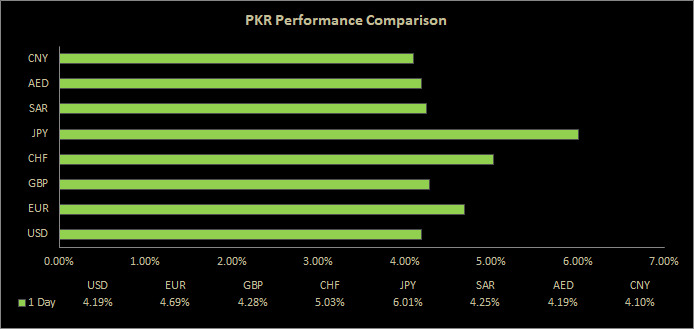 On another note, within the money market, the overnight repo rate towards the close of the session was 14.25/14.50%, whereas the 1-week rate was 14.75/14.85%.
Copyright Mettis Link News
Posted on:2022-08-03T16:53:58+05:00
34431