January 11, 2022 (MLN): Pakistani rupee (PKR) managed to gain five paisa against the greenback in today's interbank market session as the currency closed the trade at 176.63 per US dollar.
PKR ended flat on Monday at 176.68 as demand for dollar is thin.
Due to New Year, credit request has not picked and private sector activity is slow, Asad Rizvi, the former Treasury Head at Chase Manhattan said.
While, SBP is confident that the ECO will expand and attain 4%+ growth, but delay in rescheduling of 6th IMF review will slowdown pace of growth, he added.
The rupee traded within the narrow trading session with quotes being recorded in a range of 25 paisa per USD showing an intraday high bid of 176.80 and an intraday low offer of 176.55.
From July'21 to date, the local unit has lost Rs19.08 against the USD. Similarly, the rupee fell by 11 paisa in CY22, while the month-to-date (MTD) position, observed a decline of 0.006%, as per data compiled by Mettis Global.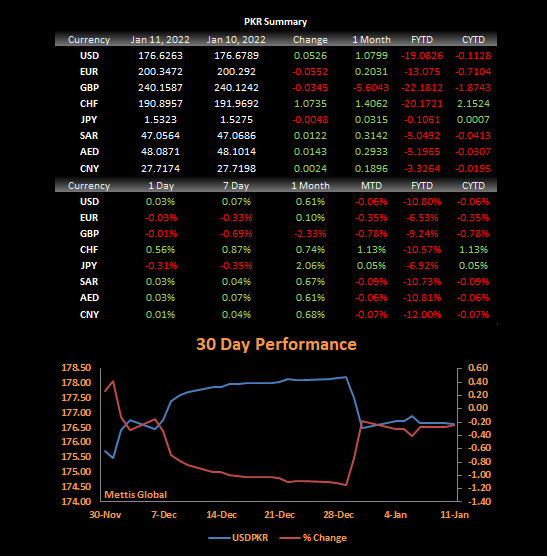 Within the Open Market, PKR was traded at 178.50/179.50 per USD.
Alternatively, the currency lost 3 paisa to the Pound Sterling as the day's closing quote stood at PKR 240.16 per GBP, while the previous session closed at PKR 240.12 per GBP.
Similarly, PKR's value weakened by 6 paisa against EUR which closed at PKR 200.35 at the interbank today.
On another note, within the money market, the overnight repo rate towards close of the session was 9.50/9.75 percent, whereas the 1 week rate was 9.90/10.00 percent.
Copyright Mettis Link News
Posted on: 2022-01-11T16:24:44+05:00
30101