September 08, 2022 (MLN): Holding a losing streak against the greenback, the Pakistani rupee (PKR) depreciated by two rupees on Thursday in the interbank session as the currency settled the trade at PKR 225.42 compared to yesterday's close of PKR 223.42 per USD.
During the session, the rupee traded in a range of 2.6 rupees per USD showing an intraday high bid of 226 and an intraday low offer of 224.40 while in the open market, PKR was traded at 230/231.50 per USD.
The absence of clarity on the inflows from friendly countries, removal of sales tax on food imports along with political uncertainty has put immense pressure on the local unit.
Market experts are of the view that there is a dire need for funds inflow from friendly countries to ease some pressure on the currency.
Meanwhile, the demand for the dollar in the international market keeps increasing against the other currencies also as investors pondered the path of global monetary policy ahead of a European Central Bank rate decision and comments from Federal Reserve Chair Jerome Powell.
The U.S. dollar index, which measures the currency against six major peers, added 0.1% to 109.80, edging back toward Wednesday's peak at 110.79, a level not seen since June 2002.
In FYTD, PKR lost 20.57 rupees or 9.13%, while it plummeted by 48.90 rupees or 21.70% against the USD in CYTD, as per data compiled by Mettis Global.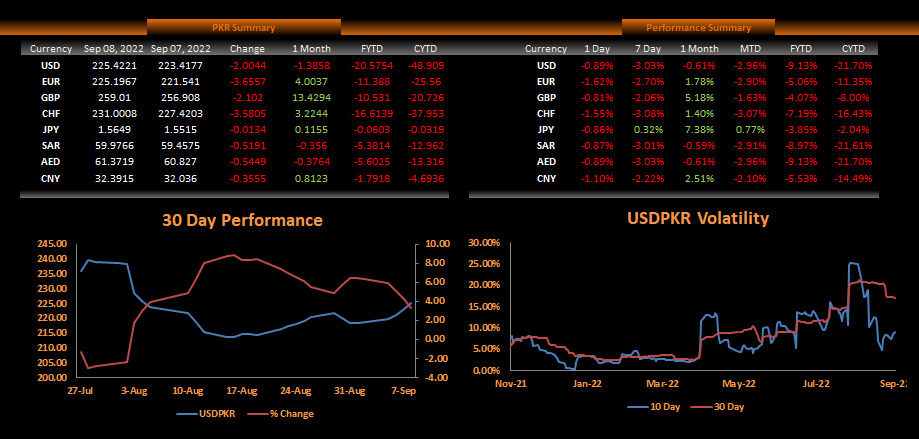 During the last 52 weeks, PKR lost 25.62% against the greenback while reaching its lowest at 239.94 on July 28, 2022, and the highest at 167.66 on September 09, 2021.
Furthermore, the local unit has weakened by 13.96% against EUR when it was highest on March 07, 22, while the rupee fell by 11.43% against GBP since its high on September 30, 2021.

In MTD, the local unit has weakened by 3.07%, 2.96%, 2.91%, 2.90%, 2.10%, and 1.63% against CHF, AED, SAR, CNY, and GBP respectively, however, in the same period, the local unit strengthened by 0.77% against JPY.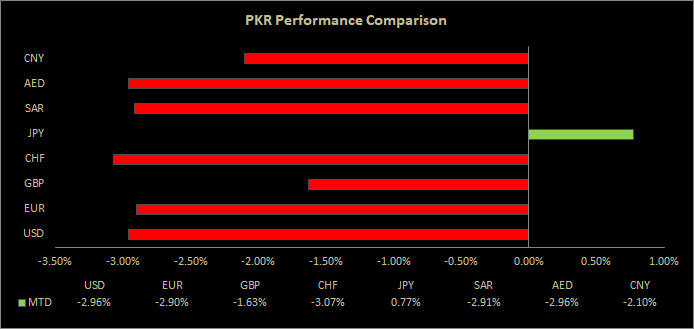 The local currency lost 2.1 rupees to the Pound Sterling as the day's closing quote stood at PKR 259.01 per GBP, while the previous session closed at PKR 256.91 per GBP.
Similarly, PKR's value weakened by 3.7 rupees against EUR which closed at PKR 225.2 at the interbank today.
On another note, within the money market, the overnight repo rate towards the close of the session was 14.50%/15%, whereas the 1-week rate was 14.85%/14.95%.
Copyright Mettis Link News
Posted on:2022-09-08T16:53:19+05:00
35008