July 07, 2022 (MLN):  At the end of the choppy session on the elevated dollar demand in the international market and the absence of IMF tranche, the Pakistani rupee (PKR) managed to gain 8 paisa against the US dollar today's interbank session as the currency settled the trade at 207.91 per USD compared to yesterday's closing of PKR 207.99 per USD.
The rupee endured a highly volatile trading session with quotes being recorded in a range of 1.4 rupees per USD showing an intraday high bid of 208.50 and an intraday low offer of 207.40 while in the open market, PKR was traded at 208/210 per USD.
Speaking to Mettis Global, Malik Bostan, President of Forex Association of Pakistan said, "There are notable developments underway that would support PKR to gain back its ground in coming days."
He highlighted that the coalition government is in talks with Saudi Arabia to enhance the oil facility on delayed payments facility to $3.6bn from the existing $1.2bn facility.
United Arab Emirates (UAE) has offered to buy minority shares in publicly-listed companies at a negotiated price in response to Pakistan's request for fresh loans. If the government accepts the offer, it will give a big boost to the cash-strapped economy, he added.
In CYTD, the local unit plummeted by Rs31.39 or 15.10% against the USD while it registered a decline of 1.47% against the greenback in MTD, as per data compiled by Mettis Global.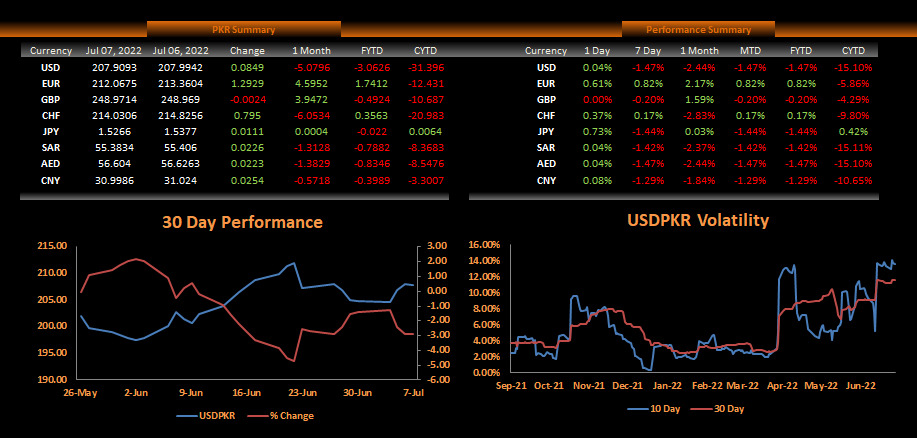 During the last 52 weeks, PKR lost 23.46% against the greenback while reaching its lowest at 211.93 on June 22, 2022, and the highest of 159.12 on July 14, 2021.
Furthermore, the local unit has weakened by 11.51% since its high on July 14, 2021, against EUR, while it has depreciated by 11.87% against GBP since its high on July 09, 2021.

The performance of the local unit remained bleak against other major currencies in CYTD as the currency lost its value by 15.11%, 15.10%, 10.65%, 9.80%, 5.86%, and 4.29% against SAR, AED, CNY, CHF, EUR, and GBP. On the other hand, PKR appreciated by 0.42% against JPY in the same period.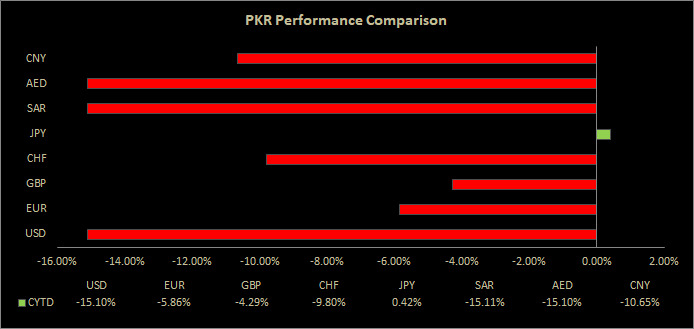 Alternatively, the currency witnessed no change to the Pound Sterling as the day's closing quote stood at PKR 248.97 per GBP.
On the other hand, PKR's value strengthened by 1.3 rupees against EUR which closed at PKR 212.07 at the interbank today.
On another note, within the money market, the overnight repo rate towards the close of the session was 12.75/12.80 percent, whereas the 1-week rate was 12.75/12.85 percent.
Copyright Mettis Link News
Posted on: 2022-07-07T16:40:05+05:00
33974