August 10, 2022: Inflation Wars have intensified during the last two months as major global central banks have picked up the pace of monetary tightening in response to multi-decade high inflation.
The expectations for gradual increases have given way to the certainty of 50 bps hikes. During the month of July and the first week of August, several major central banks lifted rates by 50 bps or more– the ECB surprised with a 50 bps hike; the Bank of Canada went for a "Shock and Awe" move of 100 bps; Reserve Bank of Australia announced a 50 bps hike in July and followed up with another 50 bps hike in August, and the Bank of England joined the 50 bps hike club last week. Bank of Japan remains the only major DM central bank that is not hiking rates.
The inflation outlook remains highly uncertain with risks to the upside given the recent pickup in services inflation and wages. This means we will see more hikes of such magnitudes in the coming months.
The Fed went ahead with another rate hike on 27th July and announced an increase of 75 bps taking the Fed Fund Target Rate (FFTR) to 2.25%-2.50%. Once again, the move was highly anticipated, and the focus was on the FOMC's statement language and Jerome Powell's post-meeting press conference.
A couple of weeks before the meeting there was some chatter of a 100 bps hike on the back of another upward surprise in inflation print – June headline CPI exceeded expectations to reach 9.1% YoY, a new 40-year high. The persistently elevated level of inflation led to expectations of a 100 bps hike but subsequent comments from several Fed members indicated that 75 bps was the most likely outcome.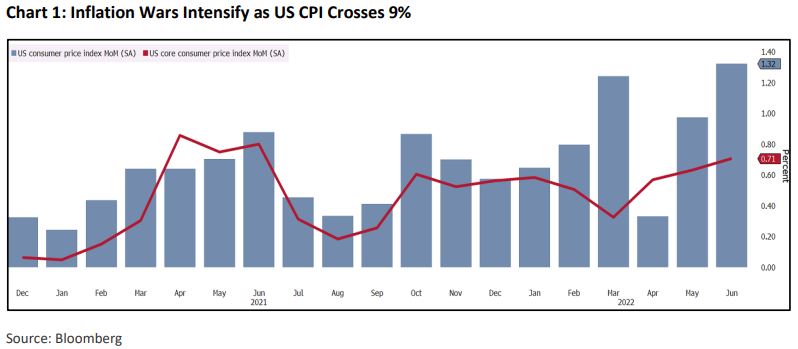 James Bullard, President of St. Louis Fed said, "So far, we've framed this mostly as 50 versus 75 (bps) at this meeting. I think 75 has a lot of virtue to it. As of today, I would advocate 75 basis points again at the next meeting."
While Christopher Waller, Governor, Federal Reserve is of the view, "With the CPI data in hand, I support another 75 basis-point increase. Don't say because you are not doing a 100 you are not doing your job; you don't want to really overdo the rate hikes. Whatever happens with the July meeting, I expect that further increases in the target range will be needed to make monetary policy restrictive."
The comments helped in lowering the probability of a 100 bps hike from around 67% on July 13 to under 10% on the day of the meeting. Furthermore, while inflation remained elevated and labor markets showed strength, few data points released during July indicated a slowdown in economic activity.
This raised the prospects of a recession in the US and market participants started to look for signs of a pivot by the Fed in response to a slowing economy.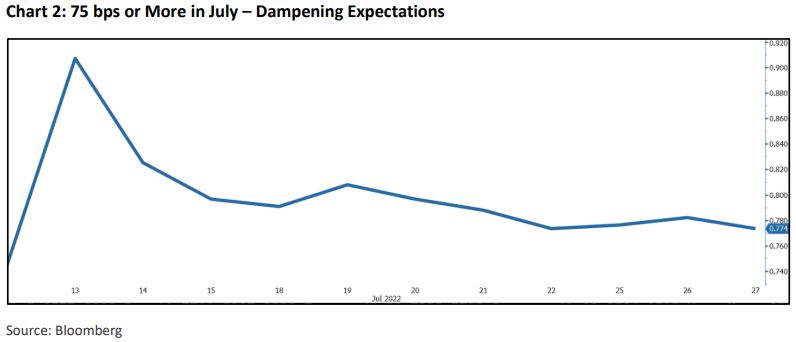 The Fed recognized the softening in some segments of the economy; however, it did not show any signs of wavering from its campaign to bring inflation down to 2% and went ahead with another jumbo hike of 75 bps and repeated that more hikes were on the way.
According to the FOMC statement, the recent indicators of spending and production have softened. Nonetheless, job gains have been robust in recent months, and the unemployment rate has remained low. Inflation remains elevated, reflecting supply and demand imbalances related to the pandemic, higher food and energy prices, and broader price pressures. The Committee is highly attentive to inflation risks.
Growth in consumer spending has slowed significantly, in part reflecting lower real disposable income and tighter financial conditions. Activity in the housing sector has weakened, in part reflecting higher mortgage rates. And after a strong increase in the first quarter, business fixed investment also looks to have declined in the second quarter. Despite these developments, the labor market has remained extremely tight, with the unemployment rate near a 50-year low, job vacancies near historical highs, and wage growth elevated. Overall, the continued strength of the labor market suggests that underlying aggregate demand remains solid. We are highly attentive to the risks high inflation poses to both sides of our mandate, and we are strongly committed to returning inflation to our 2% objective, Jerome Powell, Chairman Federal Reserve said.
Chairman Powell's press conference had some interesting revelations. Mr. Powell stated that the Fed will abstain from offering explicit forward guidance from the July meeting and will be making decisions meeting by meeting.
"As I mentioned, as it relates to September, I said that another unusually large increase could be appropriate, but that's not a decision we're making now. It's one that we'll make based on the data we see. And we're going to be making decisions meeting by meeting. We think it's time to just go to a meeting by meeting basis and not provide the kind of clear guidance that we had provided on the weighted neutral."
Mr. Powell also said that the hike in July has taken the rate to a level that the Fed considers neutral and the FOMC feels that it needs to take the rate to a moderately restrictive level. He also signaled that it will be appropriate to reduce the pace of hikes once monetary policy tightens further. The trade-off between inflation and growth was described by Mr. Powell as follows:
"We are highly attentive to inflation risks and determined to take the measures necessary to return inflation to our 2% longer-run goal. This process is likely to involve a period of below-trend economic growth and some softening in labor market conditions, but such outcomes are likely necessary to restore price stability and to set the stage for achieving maximum employment and stable prices over the longer run. We actually think we need a period of growth below potential, in order to create some slack so that the supply side can catch up. We also think that there will be, in all likelihood, some softening in labor market conditions. And those are things that we expect, and we think that they're probably necessary if we were to have– to get inflation. If we were to be able to get inflation back down on the path to 2% and ultimately get there."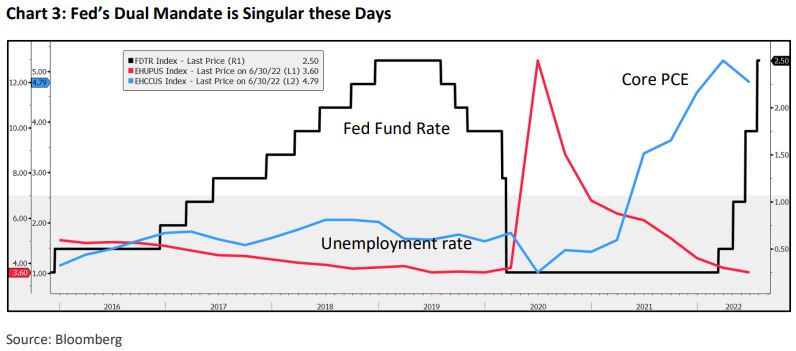 Mr. Powell's response to the question of which measure (headline or core) the Fed will monitor to see compelling evidence that inflation is coming down, further clarified the Fed's stance on fighting inflation and signaled that the Fed was not considering stopping hiking rates.
"Our mandate is for the headline, of course, it's not for the core. But we look at the core because the core is actually a better indicator of the headline. And of all inflation going forward. So, we'll be looking at both. It's worth noting, that these rate hikes have been large and have come quickly and it's likely that their full effect hasn't been felt by the economy. There's probably significant additional tightening in the pipeline."
Mr. Powell was also asked about the level of Fed Funds rate that will bring down the inflation problem and the market expectations that the Fed will be cutting rates in 2023. He responded by saying that as of now the best data point to refer to was the June Dot Plot. "And maybe the best datapoint for that would be what we wrote down in our SEP at the June meeting, so I think the median for the end of this year, the median would have been between 3 and a quarter and 3 and a half. And then people wrote down 50 basis points higher than that for 2023."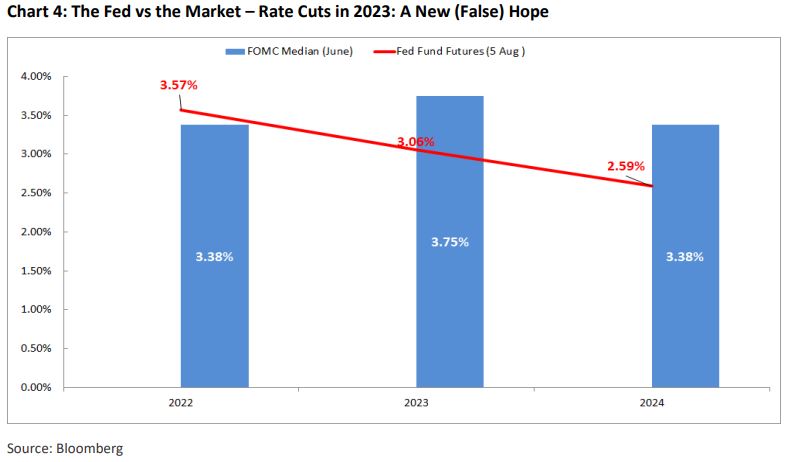 The recession fears have been impacting the markets since the June FOMC meeting. The slowdown in some activity indicators, pickup in initial jobless claims and a contraction in 2nd quarter GDP (data released one day after the Fed meeting) were some key talking points to ascertain whether the Fed will call an end to the hiking cycle when the economy falls into a recession.
The market reaction looks even more puzzling given the strength of recent data on activity and labor markets. US ISM Services index registered an uptick in July, factory orders grew by more than expectations and last Friday's NFP report showed 528,000 jobs created in July, a number more than twice the market consensus, with wages growing at above 5%.
The sharp drop in long-dated yields coupled with lower commodity prices along with higher equities values has also resulted in looser financial conditions. These data points and developments are supportive of a continued tightening by the Fed and dispel any hope of a pivot in 2023. Chairman Powell was resolute in his stance that controlling inflation was the Fed's foremost target.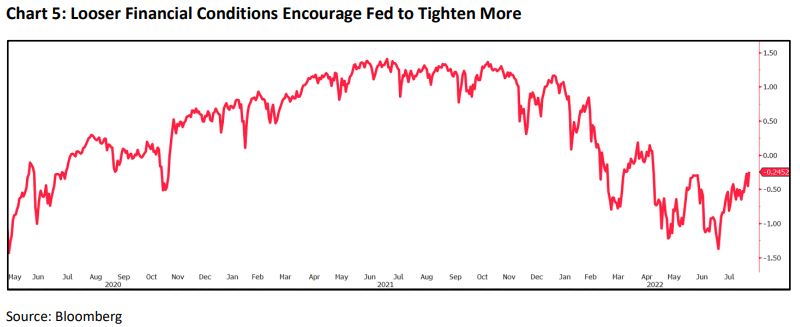 "So, I do think, as I said just now, that restoring price stability is just something that we have to do. There isn't an option to fail to do that. Because that is the thing that enables you to have a strong labor market over time. Without restoring price stability, you won't be able, over the medium- and longer term, to actually have a sustained period of very strong market conditions. There would be the risk of doing too much and imposing more of a downturn on the economy than was necessary, but the risk of doing too little and leaving the economy with this entrenched inflation only raises the cost. If you fail to deal with it in the near term, it only raises the cost of dealing with it later. So, I really do think that it's important that we address this now and get it done."
Surprisingly, despite all the assurances to fight inflation and continue with monetary tightening, the financial markets took Mr. Powell's message as Dovish and reacted immediately with a strong rally in equities and a sharp drop in UST yields. Since the meeting, several Fed members have spoken strongly to dispel such dovish hopes and continue to support continued monetary tightening until the war against inflation is won.
Neel Kashkari, President, Federal Reserve Bank Minneapolis stated, "I'm surprised by markets' interpretation. The committee is united in our determination to get inflation back down to 2%, and I think we're going to continue to do what we need to do until we are convinced that inflation is well on its way back down to 2% — and we are a long way away from that. I don't know what the bond market is looking at in reaching that conclusion. How much are we going to have to do to break the cycle of inflation and get inflation well on its way back down? Nobody knows that."
Further, James Bullard, President of Federal Reserve bank St. Louis underlined, "We still have some ways to go here to get to restrictive monetary policy. I've argued now with the hotter inflation numbers in the spring, we should get to 3.75% to 4% this year. Exactly whether you want to do that at a particular meeting or some other meeting is a great question. I've liked front-loading. I think it enhances our inflation-fighting credentials.
"We're going to have to see convincing evidence across the board of headline and other measures of core inflation all coming down convincingly before we'll be able to feel like we're doing enough," he added.
Since peaking in mid-June, long-dated treasuries have had one of their strongest two-month rallies on record, which only got partially reversed last week after the jobs data. The yield curve remains inverted with a 10-2 spread at minus 40 bps. US equities had a strong positive month in July with S&P 500 up over 9% and Nasdaq was higher by 12%.
The exuberance of the markets is firmly based on the New Hope that the aggressive tightening by the Fed in 2022 will cause a downturn in the economy leading to a recession and rising unemployment, and that will force the Fed to cut rates – indeed a False Hope.
Fed's Message to Markets – "Unlearn What You Have Learned"
The markets need to recognize the Fed's resolve in the Inflation Wars. Jerome Powell and his troops will not declare victory until inflation falls back to 2%. We know that monetary tightening works with a lag and hence once the US FFTR is in the restrictive territory, the Fed may decide to pause and wait for inflation to cool. The hope of cutting rates next year even when inflation is well above 2% can only be termed optimistic. The epic policy failure of the "Transitory Inflation" narrative in 2021 has left the Fed with no choice but to regain credibility by coming down hard on inflation. This means the markets need to prepare for a prolonged hiking cycle as hinted by Mr. Bullard when he said this time it will be "Higher for Longer".
An FFTR of 3.5% will not achieve the 2% inflation goal, and hence the peak rate could be well above 4.0% – 4.5% and stay there for a while. Mr. Powell's Neutral rate at 2.5% could also turn out to be an underestimate (as alluded to by some critics) and by September we could see a higher median projection for Neutral by the Fed.
Fed's monetary tightening resolve during the Inflation Wars with an objective to engineer a slowdown and achieve a softish landing is going to be tested severely next year. However, there is a very low likelihood that inflation will revert to 2% without a recession. So, we could see rate hikes even when the economy is slowing down.
Powell's Fed is not going to offer a Put to the markets. The Dovish shift in early 2019 was possible due to inflation being well below the 2% target. This luxury is not available to the Fed in this hiking cycle.
Keeping the above in mind, it is premature to project a peak in the hiking cycle in Q1 2023 and immature to project rate cuts from Q2 2023. Jerome Powell has no option but to follow the footsteps of Paul Volker and fight inflation valiantly. This is the battle cry in his own words:
"So, it is our job, it is our institutional role, we are assigned uniquely and unconditionally the obligation of providing price stability to the American people. And we're going to use our tools to do that. As I mentioned, there will be some, in all likelihood, some softening in labor market conditions. We need growth to slow. To below potential growth."
By Mohammad Ahsan
Managing Director, Rates and Fixed Income at Mashreq Bank
Please note that these are the author's personal views and do not reflect the view of Mashreq Bank.
Posted on:2022-08-10T09:55:41+05:00
34512