September 21, 2021 (MLN): Flying Cement has disclosed its financial performance today for FY21 as per which the company witnessed a remarkable turnaround on a YoY basis as it posted net profits of Rs143.68million against the loss of Rs530.7million incurred in FY20.
Alongside financial results, the Board of Directors of the company has recommended to issue 5% bonus shares in a proportion of 1 share to every 20 shares held.
"The board of directors of the Company in a meeting held on September 20, 2021, resolved that a sum of Rs188 million out of Company's profit be capitalized for issuing 18.8mn paid ordinary shares of Rs.10/- each as bonus shares.
These shares are to be allotted to the shareholders of the Company, whose names shall appear in the register of members at the close of business on October 20, 2021, @ 5% in the proportion of 1 ordinary share of Rs.10/- each for every 20 ordinary shares held by a shareholder", company's financial statement cited.
The said shares shall rank pari passu with the existing shares of the Company as regards future dividend and in all other respects, it added.
During the period, the company recorded a significant revenue growth as the gross sales of the company jumped notably by 219% YoY to Rs4.38bn from Rs1.37bn reported in FY20. Accordingly, the gross profit of the company clocked in at Rs302.9mn against the gross loss of Rs462.38mn in FY20.
To recoup demand, the Company expanded its production capacity as well as enhanced its power generation capacity. The Company successfully completed the installation and commissioning of 7.5MW Waste Heat Recovery Power Plant (WHRPP) at its site in Mangowal, District Khushab during the quarter ended March 31, 2021.
This has resulted in significant cost saving in power consumption for the Company when compared to WAPDA's high power tariff.
In line with the profits, the earnings per share of the company after-tax clocked in at Rs0.38 per share against the loss per share of Rs3.02 in the previous year.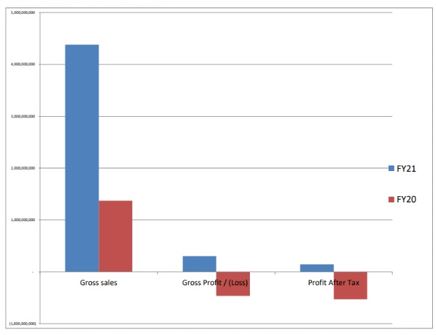 Copyright Mettis Link News
Posted on: 2021-09-21T19:50:25+05:00
26977