August 12, 2022 (MLN): Continuing its winning streak, the Pakistani Rupee (PKR) on Friday, has so far gained 3.88 rupees in intraday trade against the US Dollar in an interbank market when compared to the previous close of 218.88, backed by the news flow that Pakistan is likely to receive the Letter of Intent (LoI) from the International Monetary Fund (IMF) very soon.
The rupee was quoted at 215.22/215.72 [10:29] with trades being reported at 215 per USD.
Senior officials at the Finance Ministry told The News that the fund was likely to send an LoI "anytime soon as the IMF's mission chief had to rush to Australia for some personal engagement". "We may receive LoI within the next 24 hours and then it will be jointly signed by the Minister for Finance Miftah Ismail and Governor SBP."
Commenting on the same, Malik Boston, President of Forex Association of Pakistan told Mettis Global, "If LoI is finalized then the foreign investment in Pakistan will significantly increase due to economic stability."
He also appreciated the austerity measures taken by the government that helped the rupee to strengthen against the dollar.
Meanwhile, he is quite hopeful that if stability remains intact on the political front, the US dollar will go below Rs180 and will sustain for months.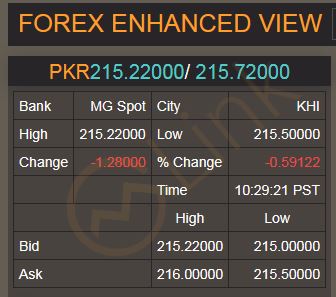 Posted on:2022-08-12T10:32:09+05:00
34556